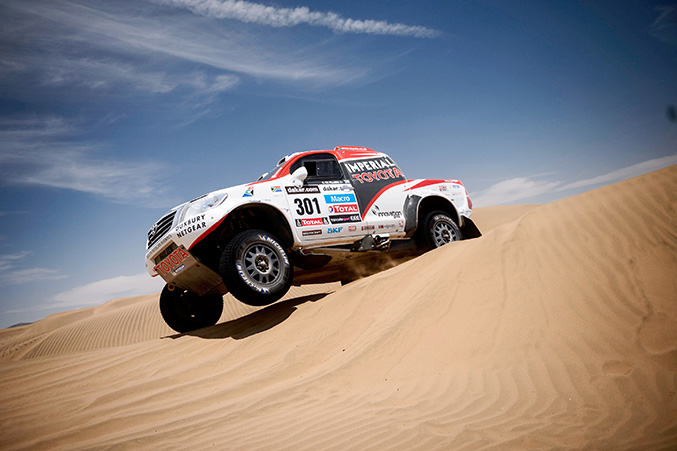 As the unpredictable and often dangerous weather of the Dakar Rally once again reared its ugly head, it didn't halt the fantastic progress of Team KTM's bikes.
The hazardous weather conditions struck stage eleven of Dakar 2013, causing the stage to end early for both the trucks and cars. This news dealt a bitter blow to Toyota duo Giniel De Villiers and Dirk Von Zitzewitz, as they had developed an impressive lead before the stage met an abrupt end.
When asked about the subject, a frustrates De Villiers said;
"The decision to take the times at CP1 does not go in our favour but that's how it is so we'll have to try again. Everything is feeling really good with the car, I'm happy with how I'm driving and Dirk is find us the right way to go. Today we had the chance to cut about 15 minutes off the gap between us and race leader Stephane (Peterhansel) and that would have increased the pressure on him."
The decision to halt the stage also had a negative effect on the overall leaderboard, with Team Kamaz also being affected.
The trio of Eduard Nikolaev, Ayrat Mardeev and Andrey Karginov were making waves throughout and were setting a good time, that was until the stage was annulled.
Nikolaev vented his frustration by saying;
"I'm sad that another stage at this Dakar has been cancelled because I come to race. Also at this Dakar the stages are very short so to lose another stage makes the distance we race even smaller. It seems that every year the race gets shorter and shorter and that is not something we are pleased about."
The bike race didn't suffer the same problems however, as Team KTM took advantage of stage eleven going ahead as planned, with the route between La Rioja and Fiambala giving debutant Kurt Caselli his second stage victory.
"Today is another stage win for the team and that's always good. Things are looking better for the team then they were in the first week of the race. The start of the race was a little dodgy for us but things are starting to smooth out and we're all feeling better."
The victory wasn't just a boost for Caselli, but it allowed team-mate and overall leader Cyril Depres the chance to increase his lead and the gap at the top of the leaderboard.
Caselli's victory made Depres extremely happy, who said;
"The stage was going okay for me but then for the final 60km I got a boost because my new team-mate Kurt Caselli picked up the pace. He was pushing like he does in his Baja races and thanks to him I was able to try and catch his rhythm. It was really helpful for me to ride with him because he really picked things up. The rhythm we had was not really the right way to ride when you are leading a race but it felt good so I went for it."