McLaren Reveals Specifications of 2013 12C GT3
Posted by Lidia Todorova on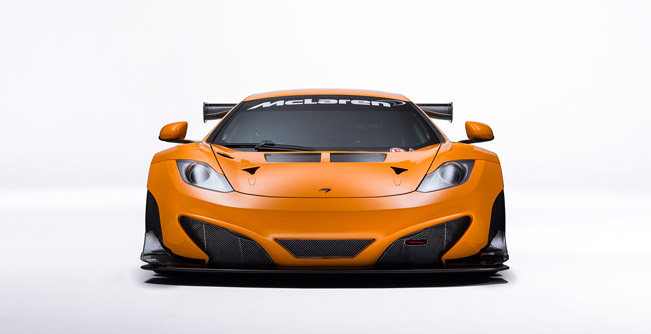 2013 McLaren 12C GT3 will compete in this years season and will continue to be raced by all active GT teams who competed in last year. In addition to this, several new teams have now taken delivery of the 2013 model.
Furthermore the specifications of the new McLaren have already been disclosed and show that there will be number of changes, all of which designed to improve drivability, reliability and efficiency, coupled with reduced complexity.
Some of the changes feature a revised aerodynamics package, an upgraded ECU with a revised electrical system and alternative dampers. What is more, the 12C GT3 will also benefit from an updated cooling system which maximizes the performance of the car in the more varied conditions found in global championships.
There are also evident transformations on the bonnet and ducting, which now ensure that the 12C GT3 can run competitively in higher temperatures. Additionally, the revised aerodynamic package will enhance the balance and the tyre management of the vehicle.
2013 McLaren 12C GT3 technical specifications:
Chassis/Body
McLaren carbon fibre MonoCell with aluminium front and rear sub-frames
Bespoke lightweight carbon fibre body panels
Left hand drive
FIA approved safety roll cage
Aerodynamics
Front splitter
Rear wing, fully adjustable with gurney
Front and rear diffusers
Engine/Management
Race prepared 3.8L V8 twin turbo McLaren M838T
McLaren Electronics ECU interfacing with Bosch ABS and Shiftec transmission control units
Transmission
Six-speed sequential motorsport transmission pneumatically actuated via steering wheel mounted paddles
Electrical System
Lightweight motorsport specification wiring and connectors
Electronic power management system
Membrane type switch panel
Data System
McLaren Electronics 'ATLAS' data system
Digital dash display
Front/Rear Suspension
Double wishbone adjustable for ride height, camber and toe
Four-way adjustable dampers with coil over springs
Motorsport axles with single wheel retaining nut
Adjustable anti-roll bars
Forged aluminium wheels: Front 12" x 18", Rear 13" x 18"
Steering
Electro-hydraulic power assisted steering
Unique McLaren GT steering wheel developed from MP4-24 Formula 1 steering wheel
Fuel System
Motorsport 'bag tank' system with 120L capacity
Motorsport 'quick-fill' system
Lubrication
Mobil engine and transmission lubrication
Brake System
Akebono monoblock calipers with ventilated discs:

Front – 6 piston caliper, 378Ø x 36mm disc
Rear – 4 piston caliper, 355Ø x 32mm disc

Bosch motorsport ABS
Video Source: YouTube
Source: McLaren