Peugeot 208 Type R5 in Series of Tests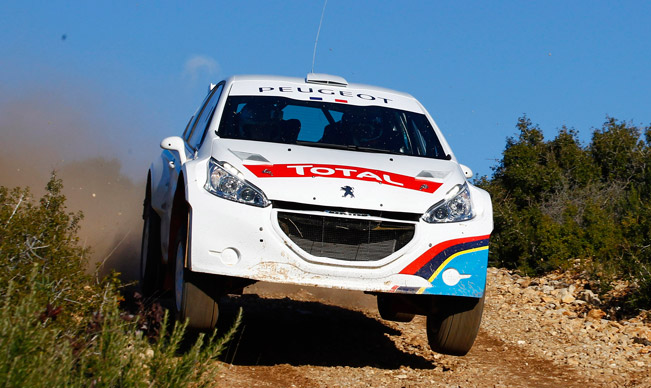 Peugeot 208 Type R5 has been unveiled at the Paris Motor Show in September and now it just competed in the first rally. It has successfully taken part in the first test programme before the end of 2012.
Furthermore, the 208 Type R5 is the first car built in compliance with the FIA's latest 'R5' regulations which has broken cover and turned a wheel. In addition, the car benefits from all the expertise and experience of Peugeot Sport.
In particular, the car was put through its paces on a gravel stage in the southeast of France (Riboux) where it completed a four-day programme in the hands of Bryan Bouffier/Xavier Panseri.
Between now and the 208 Type R5's release for sale (the second half of the next year) the Peugeot model will run over 10 000 km of testing. At a later stage, the brand will focus on the suspension and the turbocharged engine which are the two chief factors of the global performance package.
View All (3) Pictures
Peugeot 208 Type R5 Specifications:
ENGINE
Type
EP6 CDT
Location
Transverse Front
Capacity
1598 cc
Number of cylinders
4
Power (bhp.DIN)
280bhp at 6,000rpm
Torque (Nm)
400 Nm at 2,500rpm
Max engine speed
7,500rpm
Injection
Magneti Marelli High Pressure Direct
Intake
Single throttle
Number of valves
16
TRANSMISSION
Mode
Four-wheel drive
Clutch
Dual disc
Gearbox
Five-speed with sequential control
Differential
Two self-locking differentials
CHASSIS
Structure and materials
Shell + Tubular roll-over bar
Front suspension
Pseudo MacPherson
Rear suspension
Pseudo MacPherson
BRAKES / STEERING
Front brake
Alcon 4 pistons
Ø 300 (gravel) 355 (asphalt)
Rear brake
Alcon 4 pistons
Ø 300 (gravel) 355 (asphalt)
Steering
Direct with hydraulic assistance
Wheels
Aluminium monoblock 8''x18'' (asphalt) / 7"x15" (gravel)
Asphalt wheels
225x40x18
Dirt wheels
215x65x15
DIMENSIONS
Length
Idem standard: 3,962mm
Width
1,820mm
Wheelbase
2,560mm
Minimum weight
1,200 kg (asphalt) / 1,200kg (gravel)
Source: Peugeot
What is your opinion?