2011 Le Mans Series at Le Castellet crash [video]
A huge crash happened at the race of 2011 Le Mans Series, Le Castellet 6-Hours. The race begun really bad with a mistake by the pit car, which caused a pileup i the GT field. At the start of the race, the lights went green, but the pace car didn't leave the track.
The race for some drivers finished even before the start.
"Well, that was the shortest race of my life," cometented Porsche works driver Richard Lietz (Austria).
"After the formation lap, the lights were already green, but because of the packed field it wasn't possible to register that the safety car hadn't yet left the track. Suddenly I was torpedoed from the left and pushed into the wall. I had no chance to avoid the accident.", he added.
"This is a nightmare for us. All three GTE-Pro 911 have been shunted out of the race through no fault of our own. Richard and I had a great race set-up. Maybe we could have managed a podium result. For the next race in Spa, this means we have to go hard out." , said Lietz's teammate Marc Lieb (Germany).
Check out the video!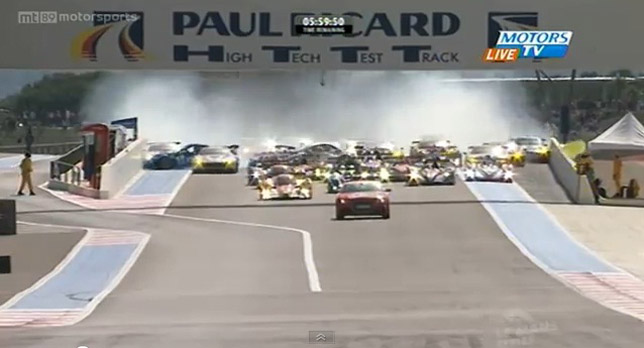 Source: Axis of Oversterr