2012 BMW M5 F10 - 0 to 314 km/h & Drift test [video]
Here is a nice video by Sport Auto of the latest 5th generation BMW M5 – the F10. The new 2012 BMW F10 M5 is already available on the market and it is priced at "just" £73 040 OTR. The premium sports saloon comes with unique engine, suspension and luxurious interior.
The latest M5 is powered by a brutal twin-turbo 4.4 liter V8 with whopping 560PS (412 kW) at 5750RPM and 680Nm(502 lb-ft) at just 1500RPM. The engine features M TwinPower Turbo technology, twin-scroll turbochargers, high-precision direct fuel injection, VALVETRONIC variable valve control and a cross-bank exhaust manifold. In other words, this means 0 to 100 km/h in 4.4 seconds, to 200 km/h in 13 seconds and 32.7 seconds to 300 km/h. In the video, you'll be able to see, how the big saloon makes 314 km/h. What is more, the fuel consumption is just 9.9 liters per 100 km on combined cycle – 28.5 mpg and CO2 emissions of 232 g/km.
The M5 F10 offers electronically controlled dampers with three modes -- Comfort, Sport and Sport Plus. The M-specific Servotronic steering system, high-performance compound brakes and an Active M Differential.
The safety is provided by the DSC (Dynamic Stability Control) system, which operates via FlexRay high-speed data transfer technology, and constantly cross-checks the data collected by its sensors with the feedback from DSC.
Enjoy the video!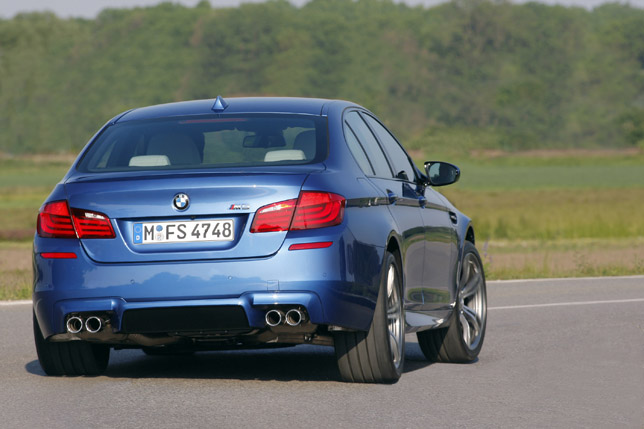 Source: Sport Auto via Youtube