2012 Hyundai Veloster Rally Car [video]
Hyundai has unveiled the new Veloster rally car, which will be driven by Rhys Millen and Robbie Maddison in the X Games 2011. The race car is built on the same chassis as the production vehicle.
It features carbon fiber and Kevlar body panels, which are 75 percent lighter and much stronger. That reduced the total weight of the car to just 1204 kg.
2012 Hyundai Veloster Rally Car also features a eight-point safety cage and firewall, a Sparco racing seat, a custom suspension, Hankook Racing tires on 18" HRE wheels, and Brembo brakes.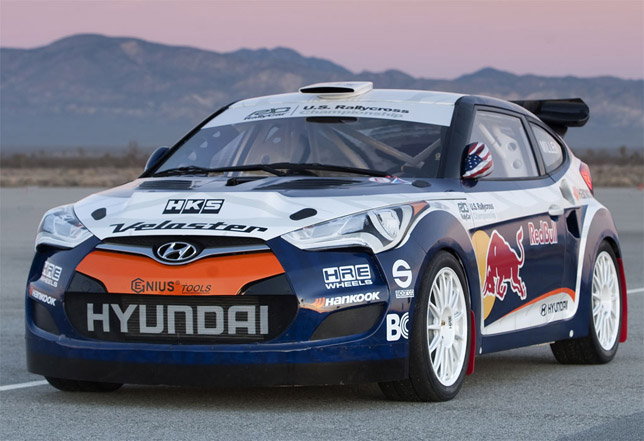 Veloster Rally Car  is powered by a four-cylinder turbocharged engine with 500PS. The power to weight ratio is staggering. All that power is put on the road through Xtrac four wheel drive system with front and rear differentials.
For best performance on and off-road, Veloster Rally Car has Proflex jumbo coil over suspension.
Hyundai Veloster Rally Car:
Curb weight: 1204 kg (2 656 pounds)
Engine: Hyundai 500-horspower four-cylinder turbocharged
Transmission: Xtrac six-speed sequential
Transfer case: Xtrac four wheel drive
Front and rear differentials: Xtrac
Suspension: Proflex jumbo coil over
Front Brakes: 14-inch Alcon rotors with 6-piston Alcon calipers
Rear Brakes: 12-inch Alcon rotors with 6-piston Alcon calipers
Wheels: 18 x 8.5-inch HRE
Tires: 245/40-18 Hankook racing tire
Seats and harnesses: Sparco