2012 Range Rover Evoque - 5 stars from Euro NCAP [video]
The 2012 Range Rover Evoque has achieved 5 stars from Euro NCAP. The SUV scored 86% protection for adult occupants, 75% for child occupants, 41% for pedestrians, and 86% for safety assist. The top marks are earned thanks to a number of technologies.
In frontal impact, the vehicle absorbs energy well and keeps the shape of the safety cell. Still, the front passenger's airbag can't prevent the head from hitting the dash because it doesn't have enough pressure.
Still, the overall condition of the dummy is good, but a lot points were lost because of the problem above. The lower areas of the front occupants are protected, but there is only marginal protection for the driver's chest.
The Evorque has highest marks, when it comes to side impact. Abdomen protection is at very high level during the pole test.
In rear end crash, the head restraint provides marginal protection against one of the most dangerous injuries – whiplash. It offers a very good protection to a child occupant, but the vehicle has lost some points for not giving the driver enough information about it.
The pedestrian impact test is not passed with maximum points, because of the front edge of the bonnet and the rest of it, where a pedestrian's head will probably hit. Still, the Evoque has a flexible front bumper, which gives some good marks.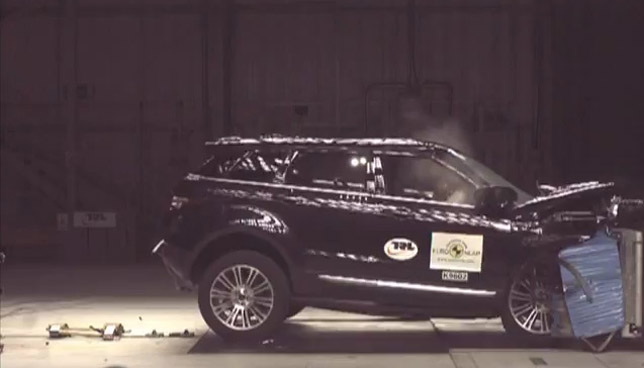 Source: Land Rover