2013 Maserati Ghibli - A Turning Point in the Manufacturer's History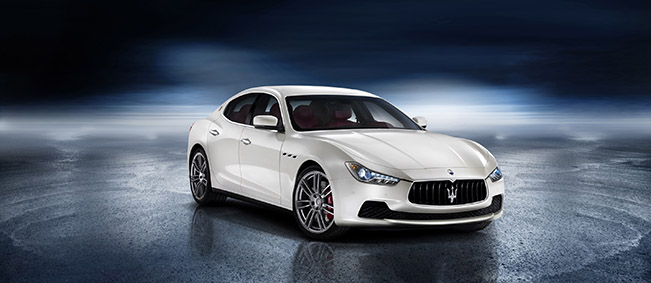 Maserati has released full details about the 2014 Ghibli. It marks marks a turning point in Maserati's history. Unveiled at the Shanghai Motor Show and arriving just months after the new Quattroporte, the Ghibli will give Maserati two four-door saloon models for the first time in its history.
The engine range includes a new 3.0 liter V6 turbodiesel with 275HP (202 kW) and 600Nm (443 lb-ft) of torque. 0-100 km/h in 6.3 seconds and a top speed of 250 km/h (155 mph) – electronically limited. The engine is able to return 47 mpg UK – 6 liters / 100 km. There is also a twin-turbo 3.0 liter V6 petrol with 330HP (243 kW) and 500Nm (369 lb-ft) of torque. There is an S variant of this engine delivering 410HP (301 kW) and 550Nm (405 lb-ft). 0-100 km/h in 5.0 seconds and a top speed of 285 km/h (175 mph). All engines are mated to an 8-speed ZF automatic transmission. A Q4 all-wheel drive system is available for the European customers. The RWD models feature a mechanical limited-slip differential with 35 % lock-up under power and 45 % under release. The 2014 Ghibli has a double wishbone suspension up front and a multi-link rear system, while alloy sizes vary from the standard 18" to 21". Behind the wheels are Brembo cross-drilled brakes which in the Ghibli S measure 360x32mm and come with 6-piston calipers for the front axle and 4-piston calipers at the rear.
The Ghibli has entered the E-segment sports premium market with a marked advantage in cabin craftsmanship and detailing, offering luxury features like the Maserati Touch Control screen,  reversing camera, Poltrona Frau leather interior and the 15-speaker Bowers & Wilkins audio system, as well as WLAN-based WiFi and compatibility with most modern mobile phone systems.
The Ghibli will have two petrol engines, the 243 kW (330 hp) V6 Twin Turbo in the Ghibli and the more powerful 301 kW (410 hp) Ghibli S
The Ghibli will also deliver a state-of-the-art V6 turbo diesel, the first in Maserati's history, which has been designed with the European market primarily in mind
The Ghibli S reaches 100 km/h in 5.0 seconds and has a top speed of 285 km/h (177mph)
Traditional handling excellence is assured through 50 : 50 weight distribution, a double wishbone front suspension and a five-link rear suspension
Cabin features include WiFi WLAN hotspot, up to 15 speakers of Bowers and Wilkins audio quality, 8.4 " Maserati Touch Control screen
The Ghibli has been designed and engineered by Maserati and is the second model (after the Quattroporte) to be manufactured to new benchmark quality standards in Maserati's refurbished facility in Grugliasco (near Turin)
The Ghibli has targeted a five-star NCAP crash safety rating by including a third force load path and seven airbags to complement its high-strength chassis design
Source: Maserati