2014 Mercedes-Benz Sprinter 4x4 - A €8,391 Option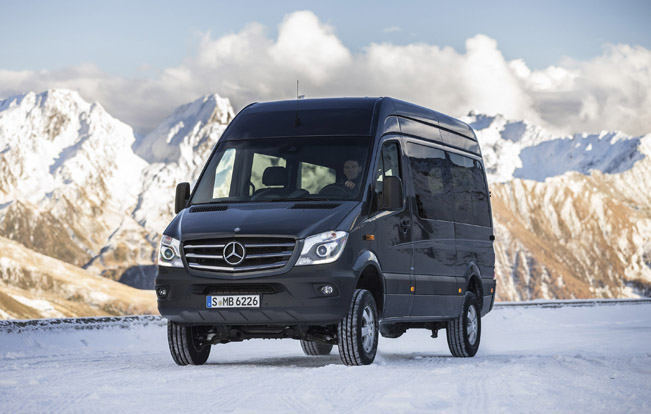 Mercedes-Benz has come up with an interesting option for the new 2014 Sprinter. The extremely popular cargo vehicle is now available with 4x4 AWD system as an option - €8,391.
The new Sprinter 4x4 is displaying its outstanding capabilities even under the most adverse of conditions. Theundisputed number-one van with a GVW of around 3.5 t meets the strictest of requirements when it comes to traction.
The additional weight of the all-wheel drive in the Sprinter 4x4 comes to just 115-135 kg depending on version. The comparatively low additional weight is attributable to the 4ETS system, which dispenses with the need for mechanical differential locks.
On the road, the Sprinter 4x4 impresses with its excellent control and perfect traction. It conveys an air of safety and effortless superiority typical of the brand as well as the same comfort as a Sprinter with conventional drive.
The 4x4 system can be engaged at the press of a button, so it will not harm the fuel consumption in normal conditions. There is also an electronic traction system, Hill-Start Assist and even off-road tires.
The engine range includes a 2.1-liter four-cylinder diesel – 129HP (95 kW) and 305Nm (225 lb-ft) of torque; the same engine, but with 163HP (120 kW) and 360Nm (265 lb-ft) and a powerful 3.0 liter V6 diesel with 190HP (139 kW) and 440Nm (324 lb-ft) of torque. The transmission variants are two – 6-speed manual or an optional 5-speed automatic.
Source: Mercedes-Benz