2015 Sprinter-based Hymer ML-T Establishes New Safety Standards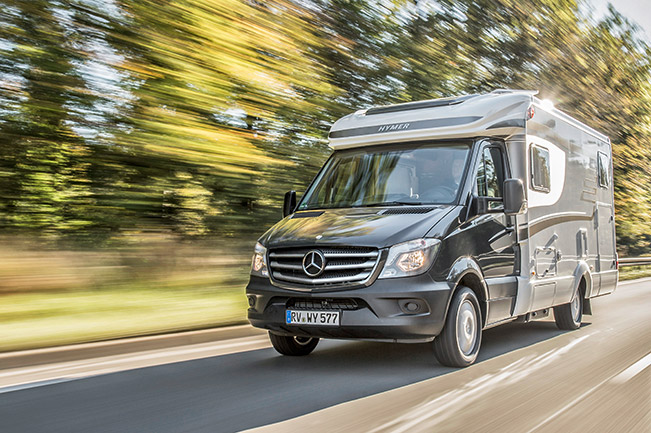 One of the most important factors that lies in the core of Mercedes-Benz is, of course, safety. The new Mercedes-Benz Sprinter managed to establish a new level of safety technology in the van segment thanks to its innovative driver assistance systems. Now in a collaborative work with the well-known camper manufacturer Hymer, features like Lane Keeping Assist, Blind Spot Assist, Highbeam Assist, COLLISION PREVENTION ASSIST and Crosswind Assist will be made available for purpose-built motorhome bodies that are based on the van.
Crosswind Assist is activated automatically from a speed of 80 km/h and uses the sensors of the Electronic Stability Program ESP®. How does the system work though? It is able to detect the forces impacting on the vehicle owing to crosswind gusts, and, therefore, uses particular brake pressure to individual wheels. As a result, this counteracts the effect of the crosswind, and ensures better and easier driving.
Since the Sprinter comes in different length, height and weight versions, Crosswind Assist can be customized and configured for each model, including certain campers.
The chassis for motorhome bodies are available in three wheelbases and a variety of drive systems too which answer the requirements of customers. For instance, there are highly efficient diesel engines with four and six cylinders cover an output range from 90 HP (70 kW) to 190 HP (140 kW). Superior power delivery and exceptional refinement are assured by the most powerful engine, a V6, which is unique in this segment.
The Sprinter-based Hymer ML-T Equipped with Crosswind Assist as standard is going to be offered from January 2015 and is thought to set new safety standards for campers.
Source: Mercedes-Benz