24 Hours of Daytona: Two Porsche grab front row positions
A strong start for Porsche at the 24 Hours of Daytona: David Donohue (USA) secured pole position with the Porsche Riley of the Brumos Racing team for the long distance classic in Florida, 40 years after his father, Mark, won here. With a one-thousandth of a second gap, Timo Bernhard (Germany) claimed second in the Penske Racing Porsche Riley. Two Porsche tackle the race from the first row – the first time since 1990.
"After the hard work our team put into the car, I felt that I owed them a strong qualifying effort," said Bernhard before the Grand-Am season-opener. "I would rather have taken pole today, but the main thing is that Porsche has the front row."
In the GT class as well, Porsche pilots were amongst the fastest. With the 911 GT3 Cup fielded by TRG, Andy Lally (USA) qualified on second place ahead of Porsche-junior Martin Ragginger (Austria) competing for the Autometrics Motorsports team. Wolf Henzler (Germany), reigning GT2 champion of the American Le Mans Series, occupied fifth position with his Farnbacher Loles Racing 911 GT3 Cup ahead of his team mate Dirk Werner (Germany). Porsche-junior Marco Holzer (Germany) clinched the tenth quickest time for his TRG squad. Of the twelve fastest GT vehicles, ten were Porsche race cars.
The Daytona 24 Hour race starts on Saturday at 15.30 hrs local time (21.30 CET).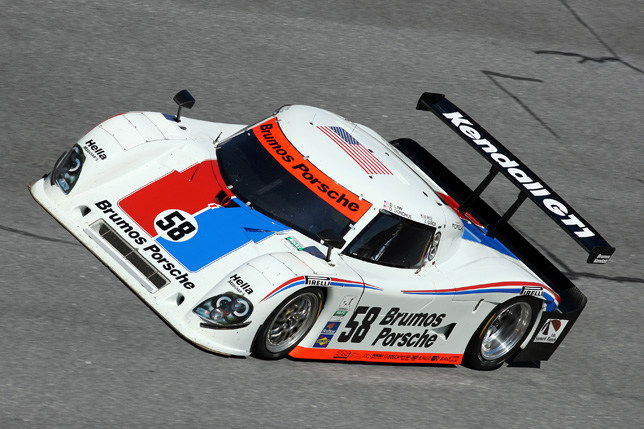 Qualifying results
1. David Donohue (USA), Porsche Riley (DP), 1:40,540 Minuten 2. Timo Bernhard (D), Porsche Riley (DP), 1:40,541 3. Michael Valiante (CAN), Ford Riley (DP), 1:40,651 4. Ricardo Zonta (BRA), Ford Lola (DP), 1:40,892 5. Ryan Dalziel (USA), BMW Riley (DP), 1:40,915 6. Scott Pruett (USA), Lexus Riley (DP), 1:41,016 7. Max Angelelli (I), Ford Dallara (DP), 1:41,311 8. Scott Dixon (NZ), Lexus Riley (DP), 1:41,316 9. Joao Barbosa (P), Porsche Riley (DP), 1:41,375 10. Christophe Bouchut (F), BMW Riley (DP), 1:41,569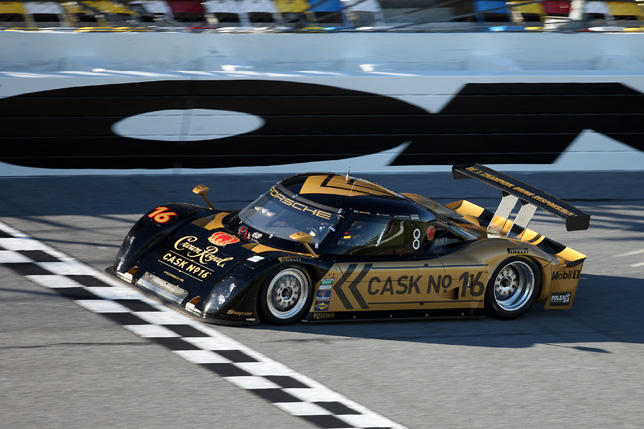 Facts and Figures
This is the Grand American Sports Car Series
In the year 2000, the Grand American Rolex Sports Car Series (abbr.: Grand-Am Series) replaced the United States Road Racing Championships. For the 2009 season, twelve races are contested in the USA and Canada. A traditional highlight of the season is the 24 Hours of Daytona. Most races run over a distance of 250 miles.
The grid is made up of two different vehicle categories: Daytona Prototypes and GT vehicles. With one exception, both categories race together but are separately classified.
Daytona Prototypes (DP): Special manufacturers, like Riley, supply the vehicle chassis. To ensure equal chances for all, large manufacturers are not permitted to enter their own team, but may supply engines. Two Porsche teams, Penske Racing and Brumos Racing, compete with the Porsche 3.99-litre six-cylinder fitted in a Riley chassis. In the Daytona Prototype specification, the engine delivers ca. 510 hp. Minimum weight of the vehicle is 1,021 kilograms.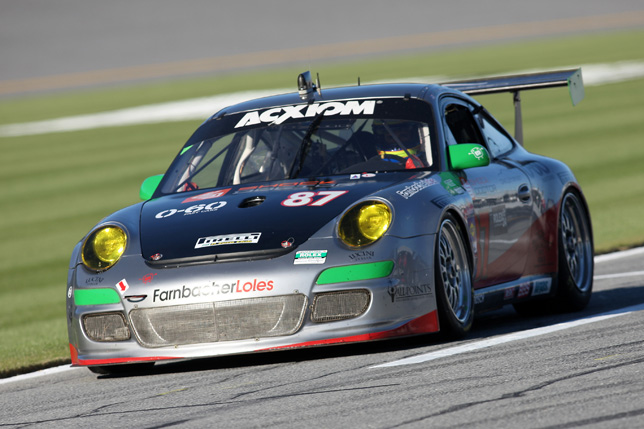 Grand Touring (GT): The GT class is similar to the FIA GT3 class, where the Porsche 911 GT3 Cup is one of the most successful contenders. Equality of chances is attained through tyre size, rev limitations and weight. The minimum weight is between 1,043 and 1,270 kilograms.
A balanced starter field ensures thrilling racing with tough fights for positions and many overtaking manoeuvres. Porsche has won the GT championship seven times in nine years, most recently in 2007 with Dirk Werner at the wheel of a Farnbacher Loles Racing 911 GT3 Cup, and with this is one of the most successful manufacturers in the Grand-Am Series. Porsche works driver Joerg Bergmeister claimed the Prototype class title in 2006.