599 Fiorano vs GT-R, 458 Italia, 911 Turbo, M3 [HD video]
Here is another awesome video by Drag Times Info published in Youtube. This time on focus is the super car – Ferrari 599 GTB Fiorano, which was the most powerful model back in 2006.
The 599 GTB Fiorano is powered by a naturally aspirated all-aluminum 6.0 liter V12 with whopping 620PS (456 kW) at 7600RPM and 607Nm (448 lb-ft) at 5600RPM. 0-100 km/h in 3.7 seconds, to 200 km/h in 11.0 seconds and a top speed of 330 km/h (205 mph). This means 103PS per liter displacement.
In this video you will see the mighty Fiorano against very powerful cars – a stock version of the sensational 458 Italia with 570PS, a Stage II tuned version of 911 Turbo (996) with 580PS, an impressive tuned BMW M3 ESS VT2-650 with 700PS and a tuned Nissan GT-R MK1 AMS Stage I with 600PS. Obviously the Fiorano will have a lot of difficulties with these cars, because it is very heavy and have a lot of troubles with the start.
What happens and whether the mighty Fiorano will cope with the tuned beasts? Check out in the video below!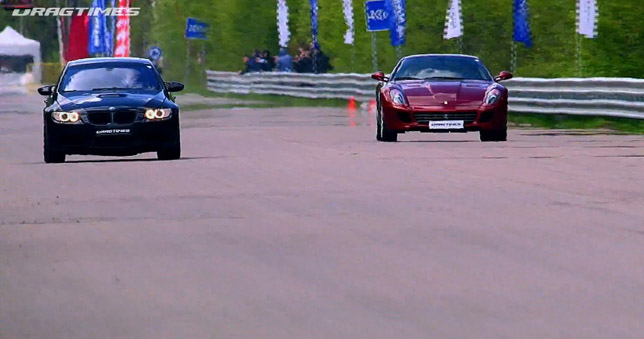 Source: Dragtimesinfo