A gold medal performance from Citroën in Germany!
The final day of the 2008 Rallye Deutschland, round 10 of this year's World Rally Championship, produced a resounding one-two finish for the C4 WRCs of Sebastien Loeb/Daniel Elena and Dani Sordo/Marc Marti. In addition to taking Citroen and Sebastien Loeb clear at the top of their respective points tables, the result of this all-asphalt fixture, which has always been happy hunting ground for the French squad, extends the team's unbeaten record in Germany to eight wins, including that of Philippe Bugalski/Jean Paul Chiaroni with their Xsara WRC in 2001. It is also Citroen's seventh victory this season and its 49th WRC success in total, which makes it the third most successful carmaker in the history of world class rallying.
The short last leg of this year's event featured just 84.97km of stages divided into two identical loops of two stages, plus the super-special through the streets of host town Trier which rounded off the day. The Citroen pair's 100% stage-winning record over the first two days (13 for Seb, and one for Dani) meant they had enough breathing space to be able to control from in front. Meanwhile, although the Rallye Deutschland is famed for its fickle weather, this year's visit ended as it had started – in bright sunshine – and the two Citroen C4 WRC crews were able to slip into a fast but safe pace all the way to the finish.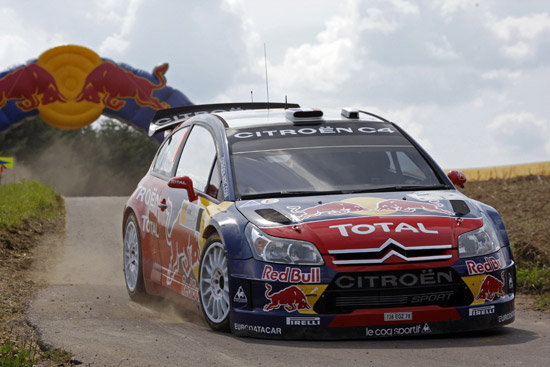 "A fortnight ago, in Finland, we were the outsiders but we managed to come out on top," recalls Olivier Quesnel. "Here, on the contrary, everybody saw us as favourites and that put us under a certain amount of pressure. I am proud to say, however, that everyone at Citroen Sport rose superbly to the occasion and played their part in securing our first one-two finish of the year as the championship enters its final phase. That's an encouraging result for the battles ahead. Sebastien and Daniel produced an impeccable run, while Dani and Marc put in a solid performance to claim second overall and bring us more valuable points. Our cars and crews have a strong record on the Rallye Deutschland and another outstanding performance this time round has taken us to the top of the Manufacturers' championship. Sebastien has moved ahead in the Drivers' standings, too, so it's been an excellent weekend on all fronts. That said, we can't afford to just sit back and relax now, and we'll all be back at work tomorrow because we've got a busy few months ahead of us…"
The same sense of a job well done predominated in the cockpit of the C4 of the defending World Champions who today collected their seventh straight win in Trier, taking their career total to 43 world class wins to establish two new records. "After beating our main rival on his home event, we had no intention of letting anybody else take victory in Germany," smiled Sebastien Loeb. "Our C4 WRC handled perfectly impeccably from start to finish and we got our tyre calls right every time, switching from the Pirelli 'Soft' and 'Hard' options as a function of the conditions. I had an excellent feeling with my car over all the different types of terrain we encountered here and that meant we were able to push hard from the word go and then consolidate our position. It's fantastic to have won here again in Trier where French spectators always turn out in big numbers. It's also a positive result for us in the Drivers' championship because it means we have recovered the lead, so we have plenty of reasons to be delighted with our weekend!"
"I am very pleased to have finished second," concluded Dani Sordo. "The Rallye Deutschland isn't my favourite asphalt event because its format doesn't let you settle into a real rhythm, but it was very nice to be back on sealed surface stages. We were a bit unsure about our set-up to begin with but the work of the Citroen technical team gave us a perfect car for Saturday morning. From that moment on, we were able to up our pace and I had tremendous fun driving and running in second position. Our result gives Citroen a onetwo finish and our overall points haul takes us to the top of the Manufacturers' standings, so that's clearly a result! I've moved up one place in the Drivers' points table, too, and we must now knuckle down to try to repeat the same sort of performance."
Positions of the C4 WRCs stage by stage.
| | | |
| --- | --- | --- |
| | Sébastien Loeb Daniel Elena | Dani Sordo Marc Martí |
| SS15: Dhrontal 1 (22.22 km) | 4th + 10.7s | 2nd + 1.8s |
| SS16: Moselwein 1 (18.08 km) | 3rd + 3s | 4th + 8.4s |
| SS17: Dhrontal 2 (22.22 km) | 3rd + 7s | 5th + 13.4s |
| SS18: Moselwein 2 (18.08 km) | 5th + 5.9s | 7th + 9.1s |
| SS19: Superspéciale de Trier (4.37 km) | 1st | 6th + 1.3s |
Stage wins Day 1: SS1, SS2, SS3, SS4, SS5, SS6: Sébastien Loeb (Citroën C4). Day 2: SS7, SS8, SS9, SS10, SS11, SS12, and SS13: S. Loeb – SS14: Dani Sordo (Citroën C4). Day 3: SS15, SS16, SS17 and SS18: François Duval – SS19: S. Loeb, Petter Solberg (Subaru Impreza) and Andréas Mikkelsen (Ford Focus). Meilleurs performers : S. Loeb, 14 meilleurs temps (1ex) – F. Duval, 4 – D. Sordo, 1 – A. Mikkelsen et P. Solberg, 1 (1ex). Best performers: S. Loeb, 14 stages win (1ex) – F. Duval, 4 – D. Sordo, 1 – A. Mikkelsen and P. Solberg, 1 (1ex). Leaders: SS1 to SS19: Loeb. Final leaderboard on 7th Rallye Deutschland (10/15)
| | |
| --- | --- |
| 1. S. Loeb/D. Elena (Citroën C4) | 3 h 26 min 19,7 s |
| 2. D. Sordo/M. Martí (Citroën C4) | + 47,7 s |
| 3. F. Duval/P. Pivato (Ford Focus) | + 1 min 20 s |
| 4. M. Hirvonen/J. Lehtinen (Ford Focus) | + 1 min 30,1 s |
| 5. P. Solberg/P. Mills (Subatu Impreza) | + 2 min 35,3 s |
| 6. C. Atkinson/S. Prevot (Subaru Impreza) | + 4 min 45,9 s |
| 7. H. Solberg/C. Menkerud (Ford Focus) | + 5 min 36,2 s |
| 8. U. Aava/K. Sikk (Citroën C4) | + 5 min 37,8 s |
| 9. JM Latvala/M. Anttila (Ford Focus) | + 6 min 17,2 s |
| 10. T. Gardemeister/T. Tuominen (Suzuki X4) | + 7 min 16,8 s |
FIA World rally Championship's rankings 'Manufacturers' (round 10/15)*
1. Citroën-Total, 123 pts – 2. Ford, 115 points – 3. Subaru, 69 pts – 4. Stobart, 51 pts – 5. Munchi's, 19 pts – 6. Suzuki, 13 pts.
FIA World rally Championship's rankings 'Drivers' (round 10/15)*
1. S. Loeb, 76 pts – 1. M. Hirvonen, 72 points – 3. D. Sordo, 43 pts – 4. C. Atkinson, 40 pts – 5. JM Latvala, 34 pts – 6. P. Solberg, 27 pts – 7. H. Solberg, 22 pts – 8. G. Galli, 17 pts – 9. M. Wilson, 12 pts – 10. F. Duval, 11 pts – 11. F. Villagra, 8 pts – 12. U. Aava, 7 pts – 13. C. Rautenbach, 6 pts – 14. A. Mikkelsen, 4 pts – 15. T. Gardemeister, 3 pts – 16. JM. Cuoq, 2 pts – 17. M. Rantanen, 2 pts – 18. A. Aigner, 1 pt – 19. PG. Andersson, 1 pt – 20. J. Hänninen, 1 pt – 21. S. Ogier, 1 pt .
*Subject to final publications of the results by the FIA. Results are subject to routine fuel analysis too.