A MINI for a Gentleman - Arden enhances MINI
Since 1972 we of Arden, who are specialized in the refinement of British automobiles and have made ourselves a world-wide name particularly as modifier for Jaguar and made Range Rover vehicles, have now discovered our passion for MINI cars.
The road version desired is based on the Cup vehicle, which is running the MINI Challenge 2009 driven by the repeated winner "of the Gentlemen Driver" E. Piro.
The target group of the Arden MINI is the so-called Gentlemen and Ladies Driver, who appreciated the compact sportiness and the British flair of the MINI in their youth. The goal of this project is the perfect combination of exclusivity, sportiness and understatement.
High-quality materials like Connolly leathers, noble woods and carbon are used exclusively and are processed by hand in our internal upholstery department. Beside the high-quality interior refinement we offer primarily classical modifications such as sport suspension, increase in output and wheels.
The Arden MINI is based on the MINI Cooper S. With the finely tuned sport suspension we put our focus on highest possible comfort without neglecting sportiness. A special high grade steel sport exhaust as well as extremely light 8x18" aluminum rims in the new Arden Design are only some of the further Arden modifications.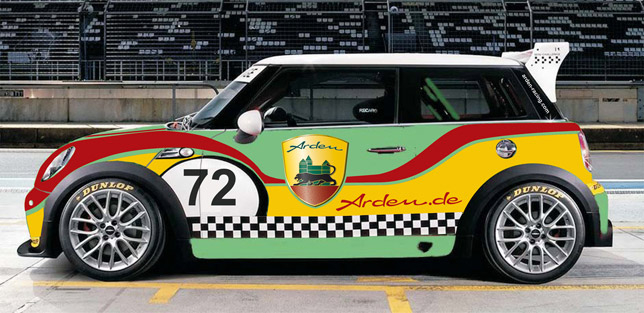 A Cup car under the applicant license of Arden Racing takes part in this season European MINI Challenge at the following runs:
17th - 19th April 09     Hockenheim 22th - 24th Mai 09     Silverstone (GB) 5th - 7th Juni 09     Hockenheim 10th -12th Juli 09     Nürburgring 7th - 9th August 09     Nürburgring 4th - 6th September 09     Oschersleben 18th - 20th September 09     Sachsenring 2nd - 3rd Oktober 09     Salzburgring (A)