A quarter of Surrey drivers fail vision screening
ONE IN four Surrey drivers cannot see well enough to be on the roads and pose a greater risk of causing traffic accidents. The staggering statistic came to light during a check of drivers' eyesight by Specsavers on its Drive Safe roadshow trailer at the Surrey Heath Show, held earlier in May at Frimley Lodge Park in Surrey.
Of the drivers who were screened by staff from Specsavers in Camberley, a quarter fell well below the minimum legal visual requirements set by the Department of Transport and Police.
Despite a substantial number failing the test, 82% of those drivers surveyed thought that regular eye examinations should be compulsory when renewing a driving licence.
Furthermore, an astonishing 100% said they would consider regular sight checks if it positively influenced the cost of their car insurance.
Lateef Iqbal, store director of Camberley Specsavers, says: 'Our Drive Safe roadshow aims to highlight to drivers how poor vision could be adversely affecting their driving and putting them in danger on the roads.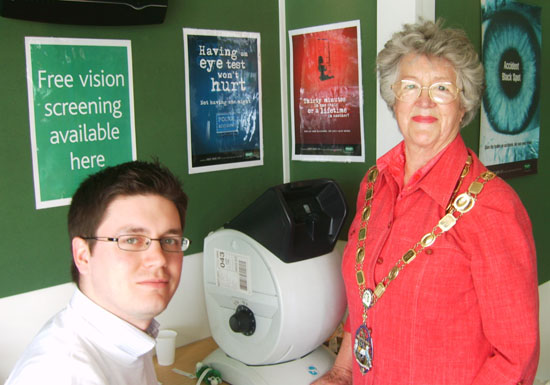 'These results show that a quarter of Surrey's drivers are dangerous, which is particularly alarming as being visually aware as a driver on the winding country lanes around Surrey is crucial, especially with limited street lighting for driving after dark. It is therefore vital that drivers have their eyes examined regularly to ensure they are not putting themselves, or anyone else, at risk.'
Visitors to the Specsavers trailer at the Surrey Heath Show were offered free vision and hearing screening, by optometrists and hearing aid audiologists from Camberley Specsavers. Those who failed the tests were given advice on what to do next.
In addition, the store offered children and adults of all ages the opportunity to sit in an F3 car, owned by one of the store directors.  For a small donation to the Mayor's Charity, visitors were able to experience the thrills of sitting in the speed machine.
The Mayor of Surrey Heath, Patricia Pearce, was among the wannabe racing drivers.  So too was 42-year-old Leroy Wilson from Basingstoke, who has recently lost 17 stone and was overjoyed to be able to fit in the racing car.
Throughout the year the Specsavers Drive Safe trailer will be visiting motoring events including the Classic Motor Show and county shows nationwide including the Royal Cornwall Show and Royal Highland Show in Scotland.
Issued by Beattie Communications on behalf of Specsavers Opticians in Camberley, which is located at 3 Princess Way, Camberley, Surrey, GU15 3SP. To book an appointment please call 01276 677 686 or visit www.specsavers.co.uk/camberley.
Full results are available on request.