About Fifth Wheel Trailer Hitches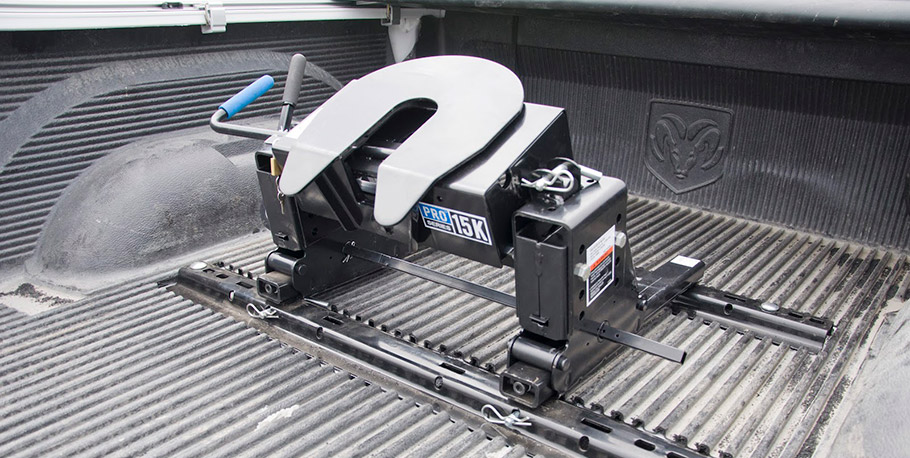 The standard hitch on cars and trucks is the trusty old ball hitch.  They are by far the most common type of hitch and you can use them with most trailers and campers.  If you are going to be towing something really large and heavy, then a fifth Wheel Hitch is often recommended.
How they work
Fifth wheel hitches are generally used with pickup trucks and are mounted in the back on the metal bed. Physically, they have a heavy metal jaw section that sits on top of a rugged metal frame with two horizontal rails. These rails are secured to the bed of the pickup truck and often bolted to the truck's frame.  On the trailer end, a king pin is mounted securely to the frame of the trailer. When one wants to connect the trailer to the truck, the truck is backed up until the two parts of the hitch slide together. Then it is locked securely. The basic mechanism of a fifth wheel is very similar to the hitches that tractor-trailers use. Let's take a look at some of their attributes.
Disadvantages of fifth wheel hitches
Bed Space: A fifth wheel  hitch takes up a large amount of space in the bed of a truck. You might find that you have little room for anything else in the truck bed when you have a fifth wheel hitch installed. Of course, since you are towing a trailer, you can put extra gear and equipment in there.
Tailgate removal:  Lynch Family Dealerships of Mukwonago, WI, a Buick, GMC, Chrysler, Dodge, Jeep, Ram dealership reminded us of another issue, you often have to take the tailgate off to tow the trailer. This can be annoying but thankfully the truck manufacturers and many third party companies have realized this and made a number of accessories that can help. They basically allow you to easily remove the tailgate without unbolting anything.
Advantages of fifth wheel hitches
Stability:  Fifth wheel hitches make the trailers far more stable than ball type hitches.  The reason is that trailer and tow vehicle are locked together in a hitch that provides lateral stability. Ball hitches do not provide lateral stability. This could be a major issue if you tow a large trailer.
Hauling Capacity: You can haul considerably more weight with a fifth wheel hitch.  It's because they are mounted closer to the center of gravity of the truck and thus spread the weight out more evenly.
Easier to maneuver:  Because the hitch is mounted inside the bed of the truck, it makes it easier to turn corners and back up.  This can be a considerable advantage if towing a long trailer.
Do your calculations
There is one more thing you should keep in mind when looking at a fifth wheel hitch; make sure your vehicle can haul the load. Check the owner's manual of your vehicle and see what the maximum towing capacity of your truck is. Never try to haul a load that exceeds this capacity. Also make sure that the fifth wheel hitch you choose is rated for the load you are towing also.
Conclusion
Despite the popular of ball hitches, if you are going to haul a big, heavy trailer, a fifth wheel hitch is probably the best choice. They are unequaled in stability and towing capacity, and while they have a few drawbacks, there are accessories that can bypass these. If you are considering getting one, look into having it professionally installed.
Image Source: truckandbody.com