Airdream - citroen's new green LCV initiative
Introducing an industry-leading initiative, Citroën is unveiling a new environmental programme for its award winning LCV range.  The new Airdream programme – which will be unveiled at the Motor Show (Excel, London July 22 – August 3) - now sees the cleanest and most environmentally friendly Citroën LCVs merit the Airdream signature.
Citroën's exacting Airdream programme reflects the company's pro-active approach to minimising the environmental impact of its award-winning LCV range.  Customers can be assured that all Citroën LCVs carrying the Airdream logo meet the following demanding environmental criteria:-
- CO2 emissions of less than 120g/km. or
- fitted with the diesel particulate filter system (DPFS) or
- meets Powershift Band 4 standards
And in addition to above Airdream also means that the vehicles are:-
- manufactured in an ISO 14001 certified factory.
- designed to be 95% recoverable (recycling and energy recovery) at end of life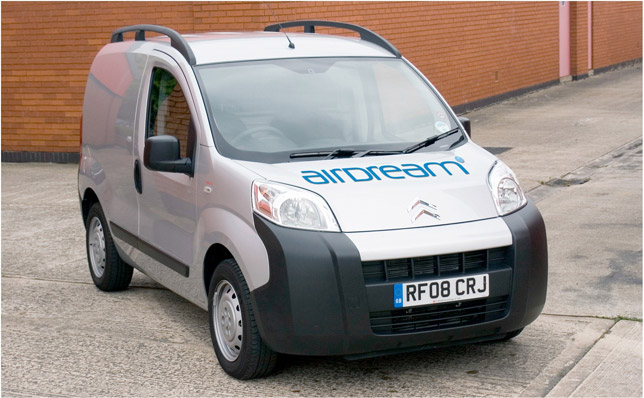 In Citroën's LCV range the following vehicles immediately merit Airdream signature:
Nemo 1.4HDi SensoDrive (116g/km)

Nemo 1.4HDi manual 5 speed (119g/km)

C2 van (113g/km)

C-Crosser Commercial and Dispatch 2.0HDi 136hp DPFS, the first LCVs in Europe to be fitted with Diesel Particulate Filter Systems, an efficient, self regenerating diesel particulate filter system which reduces particulate emissions to virtually immeasurable levels

New Nemo 1.4i Dual Fuel van (meets Powershift Band 4 requirements)

Berlingo First 1.4i Dual Fuel van (meets Powershift Band 4 requirements)
Robert Handyside, Citroën's commercial vehicle operations manager, comments, "Citroën is a European leader in the manufacture of fuel efficient, green vans.  The company's responsible – and award-winning commitment - to reduce the environmental impact of its vehicles is now clearly defined by the new Citroën Airdream LCV initiative."
Citroën is one of the first manufacturers to have announced that its vehicles could run on up to 30% bio diesel without modification.  The company also pioneered the European introduction of LCVs with self-regenerating DPFS equipment.  Citroën is also actively expanding its range of clean, efficient, Powershift Band 4, London Congestion Charge Zone-exempt, Dual Fuel (petrol/LPG) vans.   Citroën is also the only LCV manufacturer to offer Trafficmaster Smartnav satellite navigation with Dynamic Traffic Management, which has major fuel economy, emissions, cost and efficiency benefits.
"Citroën is using its Airdream programme to provide real-world evidence of the green benefits derived from its advanced technological expertise.  And, the company is also actively developing new and innovative ways to make its award-winning LCVs cleaner, to improve air quality and to reduce emissions.  Thus, the number of Citroën LCVs which meet tough Airdream criteria will grow.  This innovative programme will support customers making an informed, environmental decision when looking for a new LCV. With fuel prices at their highest and global warming featuring prominently in the news, the Airdream programme clearly recognises Citroën's most innovative, economical and cleanest LCVs," Robert Handyside concludes.