Alain Menu Is The King Of Kent
The Chevrolet WTCC team dominated the proceedings at Brands Hatch. Swiss touring ace, Alain Menu, won his third consecutive WTCC race at the Kent track, the first driver in the WTCC history to score three wins at the same track. Rob Huff looked the certain victor in today's first race, when two laps from the end his front left tyre punctured. The same fate befell team mate Nicola Larini who was running in seventh position and was looking at a first row start for race 2. From that moment, Menu – who ran in fourth – slowed down to conserve his tyres, dropping him back to eighth and thus gaining the pole position for race 2. In the second race Menu was in a class of his own, despite a quick getaway by Porteiro at the start, and scored his eighth WTCC victory for Chevrolet.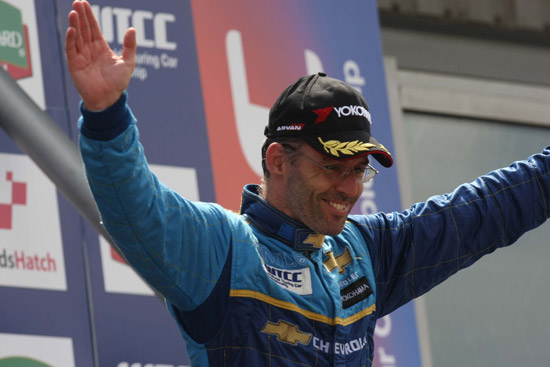 Alain Menu (8th/1st): "In race 1, I had a good start but in Turn 2 Farfus tried to close the door when it was already too late. I just kept my foot down and then he tried again resulting in him going off and me losing places. Despite the heavy hit the car felt okay afterwards. Near the end I noticed that both Rob and Nic were crawling to the pits and the team warned me over the radio to look after my tyres. I let some people past, which then gave me eighth at the finish which was good for pole for race 2. It helped me because in the end I scored more points than if I had finished fourth and then maybe fifth in the second race. In the second race, Porteiro was faster out of the blocks than me but after the safety car I passed him again going into Paddock Hill bend as soon as the track went green again. From then on it was just a matter of controlling the race."
Rob Huff (21st/10th): "I had a very good start in race 1 and tucked in behind Alain straight away. Then he and Farfus had their little thing in Druids which left the door wide open for me, very much like when I won my very first touring car race here in 2004. I then led comfortably until four laps from the end there was vibration at the front and then two laps from the end the tyre went bang and that was it. The good thing is that I'll lose 10 kilos for Oschersleben, so I'll make sure to use that to my advantage to get suitable revenge in a month's time."
Nicola Larini (23rd/12th): "My first race nearly finished in Turn 1 when I got caught in the incident between Alain and Farfus. Fortunately I barely hit Farfus as he shot across the track and from then on I settled for seventh which would have given me a front row start for race 2, just like my plan had been all weekend. Then the front left tyre delaminated with just three laps to go and I had to pit for a new tyre. Instead of starting from the front row I now started from the last and all I could do was to pass as many cars as possible and hope to maybe pick up a point."
BRANDS HATCH RACE 1 RESULTS
1. J Muller BMW 320si 14 laps in 22m20s925 2. Y Muller SEAT Leon TDI +6s595 3. A Priaulx BMW 320si +6s785 4. A Zanardi BMW 320si +7s772 5. T Coronel SEAT Leon +11s496 6. F Porteiro BMW 320si +14s623 7. G Tarquini SEAT Leon TDI +16s281 8. A Menu Chevrolet Lacetti +16s325 21. R Huff Chevrolet Lacetti +1m12s659 23. N Larini Chevrolet Lacetti +1 lap
BRANDS HATCH RACE 2 RESULTS
1. A Menu Chevrolet Lacetti 16 laps in 30m05s069 2. F Porteiro BMW 320si +1s055 3. A Zanardi BMW 320si +1s379 4. J Muller BMW 320si +2s172 5. G Tarquini SEAT Leon TDI +8s087 6. A Farfus BMW 320si +8s265 7. S D'Aste BMW 320si +10s663 8. S Hernandez BMW 320si +13s282 10. R Huff Chevrolet Lacetti +15s399 12. N Larini Chevrolet Lacetti +17s747
DRIVERS POINTS STANDINGS AFTER RACE 14 OF 24
1. Y Muller (SEAT), 65 points; 2. G Tarquini (SEAT), 64; 3. A Priaulx (BMW), 49; 4. R Rydell (SEAT), 48; 5. J Muller (BMW), 43;... 7. R Huff (Chevrolet), 36; 8. A Menu (Chevrolet), 34;... 11. N Larini (Chevrolet), 30;...
MANUFACTURERS POINTS STANDINGS AFTER RACE 14 OF 24
1. SEAT, 194 points; 2. BMW, 165; 3. Chevrolet, 134; 4. Honda, 24.