American Le Mans Series - Porsche 911 GT3 RSR on pole position
At the wheel of the Porsche 911 GT3 RSR run by Farnbacher Loles Racing, Dirk Werner (Germany) secured pole position in the GT2 class during qualifying for the 12 Hours of Sebring. On the bumpy airfield circuit in the heart of Florida, where the American Le Mans Series kicks off the new season with the oldest sports car race in the USA on Saturday, Werner was 0.382 seconds quicker than title-defender Joerg Bergmeister (Germany) in the Flying Lizard Motorsports 911 GT3 RSR.
"I didn't think I was fast enough to secure pole. My team radioed me to say I should pick up the pace a bit. But then when I came back to the pits, everyone else was slower than me," said Dirk Werner, who shares the 911 GT3 RSR in the race with Porsche works drivers Wolf Henzler (Germany) and Richard Lietz (Austria). "We tested here in Sebring since Monday and that was surely to our advantage. The team worked hard and found a good set-up."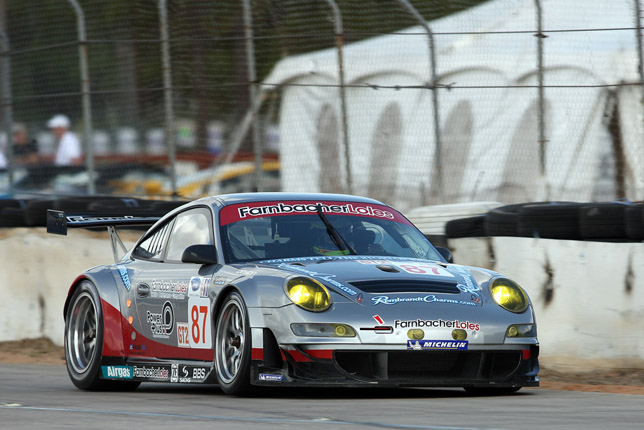 Despite the changes to the technical regulations, which stipulate a smaller restrictor and five-millimetre more ride height for the 911 GT3 RSR, Joerg Bergmeister was satisfied with his car: "On the straight I had a little less power than usual, in the corners the grip was the same and the balance was good," he said. In Sebring, Bergmeister competes alongside Porsche works driver colleagues Marc Lieb (Germany) and Patrick Long (USA), with whom he won in Sebring back in 2005. This seems to be a good omen: "The challenging circuit suits us. We are well prepared for the race."
Result Qualifying GT2 Class
1. Dirk Werner (D), Porsche 911 GT3 RSR, 2.03.051 min. 2. Jörg Bergmeister (D), Porsche 911 GT3 RSR, 2.03.433 3. Gianmaria Bruni (I), Ferrari 430 GT, 2.03.487 4. Mika Salo (SF), Ferrari 430 GT, 2.03.829 5. David Murry (USA), Ford GT, 2:04.333 6. Dominik Farnbacher (D), Panoz Esperante, 2.04.437 7. Bill Auberlen (USA), BMW E92 M3, 2.04.566 8. Chris Hall (USA), Dodge Viper, 2.05.619 9. Johnny Cocker (GB), Aston Martin Vantage, 2.05.692 10. Nicky Pastorelli (NL), Porsche 911 GT3 RSR, 2.05.805
The 12 Hours of Sebring takes off on Saturday, 21st March, at 10.30 hours local time (16.30 hrs CET).