American Le Mans Series: Successful test premiere for the new Porsche 911 GT3 RSR
The new Porsche 911 GT3 RSR has passed its premiere on the race track with flying colours. At the American Le Mans Series (ALMS) winter tests in Sebring, the long distance racer, which received modifications in many areas, immediately proved exceptional in its reliability and handling. The Porsche teams Flying Lizard Motorsports and Farnbacher Loles Racing conducted an intensive three-day test schedule and worked on a basis set-up for the Sebring 12 hour race in March.
"Right from the start, the cars ran very well and the teams made excellent progress with their work," said a satisfied Martijn Meijs, head of Performance Porsche Motorsport. "Due to changes in the technical regulations, the cars tackle this season with a smaller air inlet restrictor and the ride height must be five-millimetres higher. For this, the teams can use hardly any of the data from 2008 and virtually have to start from zero with their suspension set-up."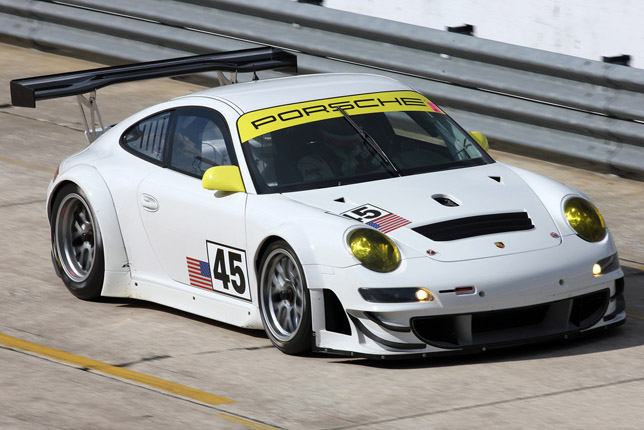 Porsche works driver Wolf Henzler (Germany), who competes with his compatriot Dirk Werner for the Farnbacher Loles team, also heads into the ALMS season with optimism after these initial tests. "The GT3 RSR has made another noticeable step forward. I think we are well equipped to win the championship."
Porsche works drivers Patrick Long (USA) and Joerg Bergmeister (Germany) also set-up their new racer for the ALMS season-opener in Sebring. "The new GT3 RSR has a much better turn-in than the 2008 car," Long said enthusiastically. "Now we just have to work on finding an optimal spring-shocks set-up for the extremely bumpy circuit here in Sebring," added Bergmeister.
In Sebring with a 2008 GT3 RSR, the Vici Racing squad concentrated on set-up tests with the Michelin tyres, which are new for the team. From the first race of the season, the outfit will also run a 450 hp Porsche 911 GT3 RSR with the new four-litre six-cylinder boxer engine.