Apex XKR 'Special Appearance' at XK60 Jaguar Festival
The Apex Motorsport XKR currently running in both the FIA GT3 European Championship and the Britcar Championship, appeared by special invitation at the XK60 Jaguar Festival held at the Goodwood motor circuit.
The V8 supercharged Jaguar was the youngest XK appearing at the event and on the famous track by around 30 years, and was in stark contrast to the majority of vintage Jaguar racing cars attending the special event which celebrated 60 years of the Jaguar XK.
Taking passengers for a once-in-a-lifetime experience ride around the Goodwood circuit, the beautiful gunmetal grey XKR GT3 was in great demand, distinctive not only in terms of looks and speed, but also in sound.  The unmistakable 'whistle' of the car's supercharger attracted considerable attention from all visitors.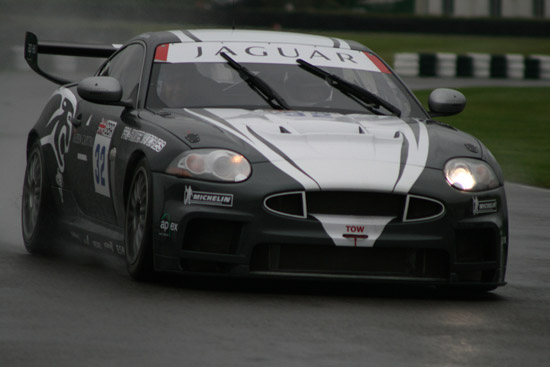 Drivers Ben Clucas (FIA GT3 Championship), Stuart Scott and Chris Ryan (Britcar) demonstrated the considerable power and performance of the Apex XKR, and despite the deterioration in the weather on the second day of the event, managed to thrill passengers as well as helping to raise funds for Children in Need.
The Apex Jaguar XKR next races at Snetterton on 16th and 17th August in the Britcar Championship, and at Brno on 13th and 14th September in the FIA GT3 European Championship.