Aston Martin confirms Nürburgring driver line-up
Aston Martin's growing presence on the track continues with the announcement that the British marque will be represented at this year's ADAC Nürburgring 24-hour race on 24/25 May with a DBRS9 and two Vantage N24s.
Aston Martin Salzburg-Wien-Geneve is entering a DBRS9 which will be supported by Aston Martin Racing and driven by Aston Martin Racing works drivers Tomas Enge (Czech Republic) and Stefan Mücke (Germany). The DBRS9 driving squad will be completed by Austrians Robert Lechner and Karl Wendlinger.
Joining the DBRS9, Aston Martin will debut a technically enhanced version of the V8 Vantage N24, piloted by Aston Martin Chief Executive Officer, Dr Ulrich Bez, factory development drivers Chris Porritt and Wolfgang Schuhbauer, and experienced race driver and journalist Richard Meaden. A second factory entered Vantage N24 will be driven by journalists Matthew Marsh and Shin-ichi Katsura, partnered by ex-Porsche SuperCup racer Oliver Mathai.
Adding to their driving duties at the Nürburgring, Enge and Mücke will form two thirds of the driving team in the Charouz Racing Systems LMP1 prototype powered by Aston Martin which will compete in the Le Mans 24-hours, just three weeks after the Nürburgring race.
Wendlinger is no stranger to Aston Martin and is entering his third year of competition with a Jetalliance DBR9 in the FIA GT Championship. He will also drive one of the works Aston Martin Racing Gulf sponsored DBR9s at Le Mans. Lechner brings with him a wealth of Aston Martin experience having competed in the FIA GT Championship in 2006 and 2007 in a DBR9 and has fantastic Nürburgring 24-hour credentials, winning the tough endurance classic outright in 2002 and driving the Phoenix Racing DBRS9 in 2007.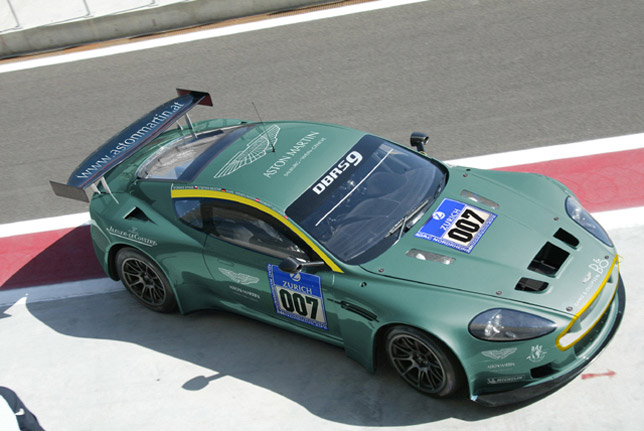 The DBRS9 is based on the DB9 road car and has been engineered by Aston Martin Racing to meet GT3 regulations. It has been competing successfully in the FIA GT3 Championship and various National Championships since 2006 and has proved popular with customers around the world with 19 delivered to date.
The DBRS9 has been specifically modified for the Nürburgring 24-hours to suit the demands of the 25kms, 73-turn Nordschleife track and the more open regulations. The 6.0 litre V12 engine is tuned to produce more than 550bhp and the car will compete at the 1,300kg class weight limit.
David King, Head of Product Communications and Motorsport, Aston Martin said: "With our two Vantage N24 entries we are hoping to build on our successes from previous years and maintain our 100% finish record. With the DBRS9 it is important to emphasise that we are still learning at the Nürburgring. The car has had a very limited testing programme and the competition is fierce."
Dr Ulrich Bez said: "The Nürburgring 24-hour race continues to be an important part of our engineering development. A number of findings from last year's race have been fed directly back to improve our road cars, and this year we will be subjecting our new improved Vantage N24 to the ultimate test."
The DBRS9 and the Vantage N24s will compete in the SP8 class for cars over 4.0 litres and race organisers are expecting a starting grid of around 230 cars.
The 36th ADAC Zurich Nürburgring 24-hour race will get underway on Saturday 24 May at 3pm local time.