Aston Martin Returns To Nürburgring 24-Hour Race With New V12 Vantage
Aston Martin will return to the starting grid of the legendary Nordschleife for the fourth consecutive year at the 37th ADAC Nürburgring 24-hour race on 23/24 May 2009 with the new V12 Vantage. Joining the marque's latest model will be 'Rose', the yellow V8 Vantage that was first entered into the race in 2006.
Headlining this year's factory effort and aiming to repeat Aston Martin's untarnished record of finishing the 24-hour race, will be the marque's new V12 Vantage in near-standard specification driven by Aston Martin Chief Executive, Dr Ulrich Bez and representatives from the company's engineering team. Premiered at the Geneva Auto Salon in early March, the V12 Vantage is the ultimate incarnation of the Vantage range featuring a 6.0-litre V12 engine producing 510 bhp (517 PS) and 570 Nm (420 lb ft) of torque. With just minor modifications, the standard car is being readied to compete in the most demanding of endurance races.
Dr Ulrich Bez who will be driving in his fourth consecutive 24-hour race, said: "This is the final engineering durability test for the V12 Vantage programme. We will be subjecting the car to the toughest assessment yet under public scrutiny as we successfully did with the Vantage N24 programme.
"We already have a proven track record at the Nürburgring racing our road cars with limited modification and in 2009 we also celebrate our 50-year anniversary of winning the ADAC Nürburgring 1000 km with a DBR1."
The V12 Vantage race car will be close to production standardwith only essential safety modifications, reduced weight and re-tuned suspension with no additional aerodynamic enhancements. Production tyre partner Pirelli has specially selected P Zero Circuit Racing slick tyres to enhance performance, ensuring consistency and to provide a tangible performance link to the V12 Vantage road car.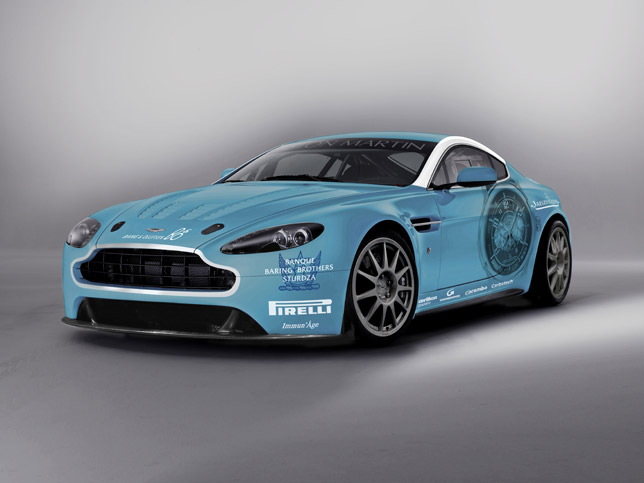 Aston Martin is expecting a number of customer teams to join the V12 Vantage on the starting grid. 'Rose', the yellow V8 Vantage and original inspiration behind the N24/GT4 programme will also be making a return to the Nordschleife having now clocked up four 24-hour race finishes and more than 20,000 endurance miles. Aston Martin's Head of Motorsport, David King said: "The Vantage N24/GT4 programme has been a huge success to date. Since its inception in 2006, no standard N24 from the factory or customer team has failed to finish a 24-hour endurance race in 13 starts around the world - a remarkable testament to the durability of the Vantage."