Audi enjoys ultra-successful motor racing year
AUDI AG is celebrating its most successful motorsport season in its history. Almost 30 years after the German manufacturer enjoyed world dominance with its groundbreaking quattro four-wheel-drive rally cars, pioneering Audi TDI fuel injection now reigns supreme as the World leading power in endurance racing.Britain's Allan McNish helped Audi achieve its eighth outright victory and its third consecutive diesel-powered win in the Le Mans 24 hour race (14-15 June) with the V12-engined Audi R10 TDI sports-prototype. Audi remains the only car manufacturer to have ever won the legendary twice-around-the-clock French race with diesel power – a race run over a longer total distance than this year's entire 18-race Formula One World Championship, and at very similar average speeds, but completed in the course of just 24 hours.
Audi had already won the marathon Le Mans 24 Hour race five times after its initial 1999 Le Mans début with the all-conquering, petrol-powered Audi R8 – a sports-prototype that claimed a staggering 63 outright race wins from 80 races (2000-06).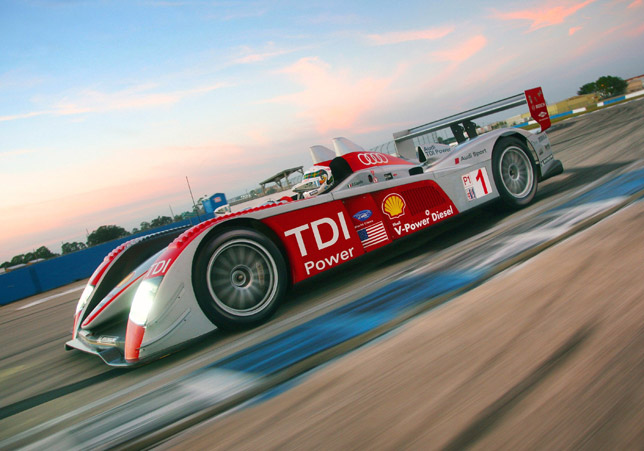 Meanwhile Dumfries-born McNish and Italian co-driver Dindo Capello swept their R10 TDI to victory at Silverstone (14 Sep), helping Audi to win the Le Mans Series championship in Europe. Audi also went on to claim the American Le Mans Series championship, won by McNish and Capello in 2006 as well as 2007, for a third time with Audi TDI Power. The Audi R10 TDI has now won 22 races overall from 38 starts (2006-08).
Audi Sport is integrated into the Technical Development (TE) division of AUDI AG, and the Audi R10 TDI acts as a rolling test bench that provides the technicians and engineers in TE with valuable information for the road-going TDI engines of the future. Latest proof of the technology transfer from motorsport to production is the Audi Q7 V12 TDI – the first high-performance road going 'sports utility vehicle' equipped with a twelve-cylinder diesel engine. The powerful 6.0-litre, 500PS V12 TDI with 1,000 Nm of torque is closely related to the purpose-built 5.5-litre racing engine in the R10 TDI, with its 650PS peak power and 1,100 Nm torque output.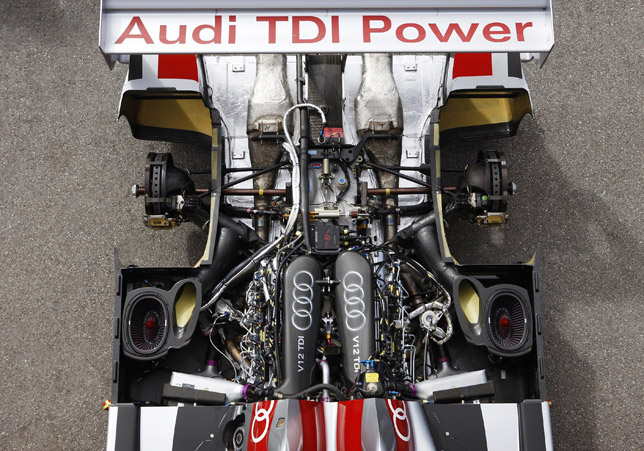 While Audi has recently optimised TDI Technology with the help of motorsport, other innovations initially found their way onto the race track "test-bench" before being introduced on the production line. Particularly impressive examples are quattro drive and the combination of turbo charging and direct fuel injection (TFSI), which was unbeatable at Le Mans between 2001 and 2005, and is found today in numerous Audi production models.
The first production Audi TDI road car was launched in 1989 and its technology has been continually developed ever since. In 1995, Audi became the first manufacturer to unveil a diesel-powered Cabriolet. This year the Audi TT with TDI Power and the potential to cover over 53 miles per gallon was launched.
Adding to this year's TDI triumphs in endurance sportscar racing, Audi successfully defended the German Touring Car Masters (DTM) title. Timo Scheider, winner of the DTM Race at Brands Hatch (31 Aug), retained the prestigious crown for Audi in the new Audi A4 DTM in its début year.
"This latest triumph in the DTM crowns what has been a successful motorsport year for Audi," commented Rupert Stadler, Chairman of the Board of Management of AUDI AG. "In addition to victory in the 24 Hours of Le Mans, we were able to celebrate the titles in the American Le Mans Series and the European-based Le Mans Series."
Audi's Head of Motorsport, Dr Wolfgang Ullrich, added: "After the victories at Le Mans, in the ALMS and the LMS, the championship in the DTM finally makes the motorsport year a perfect one for Audi."