Audi R18 TDI
Audi R18 TDI incorporates the company's lightweight technology with brutal TDI diesel engine. Because of the new regulations, the engines will be smaller, so the power will be less and all this leads to creating a super lightweight car.
"Carbon fibre is ideally suited for lightweight design and construction," said Head of Audi Motorsport Dr. Wolfgang Ullrich.
"We have deliberately made this material and the ultra lightweight technology visual for Le Mans. Lightweight design has occupied us for many years in motorsport. Everything that we have learnt over the years and especially about lightweight design and construction during development of the R18 TDI will also be available for our customers in the future - either in the form of greater performance or in the shape of low fuel consumption and lower emissions.", he added.
R18 TDI is powered by V6 TDI with 540HP (397 kW), instead of the V10 TDI engine in its predecessor. Furthermore, the new 6-speed gearbox has high amount of carbon-fiber composite material. Weight is saved even from the headlights, which feature LED technology. Because the gearshift is no longer activated pneumatically but rather electrically, the R18 TDI requires no more pneumatic system. Optimized airflow through the cockpit should make air-conditioning redundant.
Although there is a minimum weight of 900 kilograms for LMP1 cars at Le Mans, the target of Audi is to produce a car weighing significantly less than this limit.
"With the R18 TDI every component was optimised logically with regard to weight," underlined Martin Mühlmeier, Head of Technology at Audi Sport.
"The same applied to the chassis and the bodywork, the gearbox and the engine. We scoured the car for every superfluous gram.", he added.
The carbon monocoque produced in a single-piece. The bodywork was lightened by 40 kilograms between the first and second version.
"Such a consequent lightweight design is a high technical challenge," said Christopher Reinke, Technical Project Leader at Audi Sport.
"The Audi R18 TDI is equipped with many innovative solutions," commented Head of Audi Motorsport Dr. Wolfgang Ullrich proudly.
"It was built for regulations specifically targeting future technologies - and with the background enabling these technologies to be introduced into road going cars in the future. This is what makes sport prototypes so interesting for Audi. That we will now see the first impact of Audi ultra lightweight technology at Le Mans demonstrates just how motorsport and production line development go hand in hand at Audi. I'm convinced that ultra will be mentioned in one breath with terms like quattro or TDI in a few years.", he added.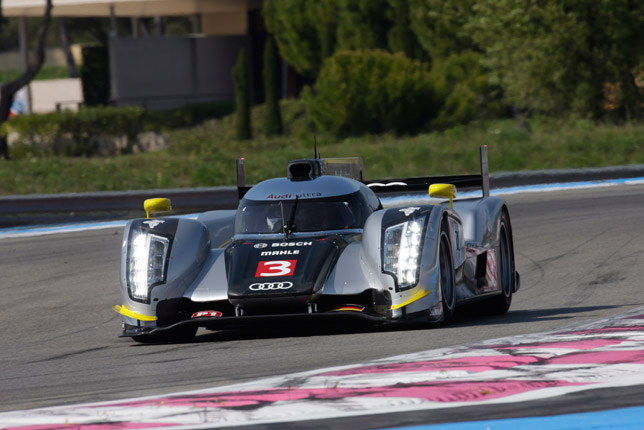 Source: Audi