Audi R8 GRAND-AM [HD video]
Here is a video by AudiClubEspana for the new R8 Grand-AM race car. The R8 made its official debut at the 24-hour race at Daytona.
Audi Sport customer racing's attractive program is a valuable element richer: the Audi R8 GRAND-AM vitalizes the hard fought North American market in GT racing since January. No less than 44 GT race cars contested the season opener in Florida. The 50th running and anniversary event of the 'Rolex 24 at Daytona' provided a worthy venue for the debut of the Audi R8 GRAND-AM car. Team APR Motorsport finished in 31st place with its drivers Ian Baas (USA)/Nelson Canache (YV)/Dion von Moltke (ZA)/Dr. Jim Norman (USA)/Emanuele Pirro (I). Oryx Racing came home in 32nd place with Humaid Al Masaood (UAE)/Saeed Al Mehairi (UAE)/Steven Kane (GB).
The new R8 Grand-AM is based on the LMS model powered by a 5.2 liter V10 FSI with 486PS (357 kW). It also features a complete aerodynamics package as well as a number of safety features – roll cage, bucket seat with sport belts, etc.
At all other GRAND-AM races up to the end of September the race car, newly developed by quattro GmbH, will compete in the United States and Canada in the hands of private customer teams. The customer racing car is distributed through Audi of America. Brad Kettler, who has been integrated for many years as engineer in Audi's Le Mans program, has built up a service and logistic structure. As a result, the Audi customers are provided with expert support during race preparation and also during the events.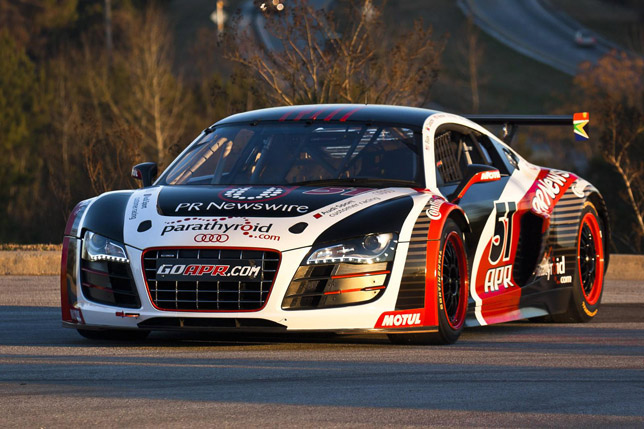 Source: AudiClubEspana via Youtube