Audi 'unplugs' with new in-car technology
Audi has just broken the sound barrier with an advanced new in-car entertainment system that offers exceptionally easy and intuitive control of iPods, MP3 players and CDs, but actually doesn't need any of them. With its new integral hard drive, the latest Audi Multi Media Interface (MMI) is capable of storing up to 4,000 tracks internally – more than enough even for long-haul trans-continental holiday journeys.
When MMI is combined with the optional Audi Music Interface, the driver can remotely control an iPod or other music storage device using the central MMI control knob with its new built-in 'joystick' and the four logically arranged push buttons grouped around it.  Full track and title listings are displayed on the sophisticated in-dash screen, and tracks can be scrolled through and selected in much the same way as they are using the iPod itself, earning the system plenty of plaudits already for its clarity, accessibility and ease of navigation.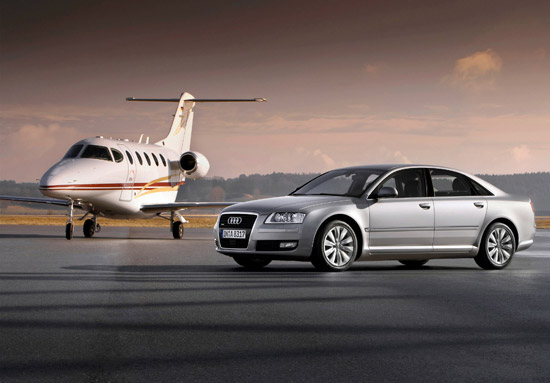 Features available as part of the latest system also include DAB digital radio reception, analogue and digital TV reception and DVD playback, all through the large in-dash monitor.
The new high-tech hard drive has a total capacity of 40 GB, 10GB of which is given over to the 4,000-song 'mobile jukebox' facility that can be loaded using SD memory cards. It also holds satellite navigation data covering the whole of Western Europe, replacing the outgoing system's already widely acclaimed DVD-based technology.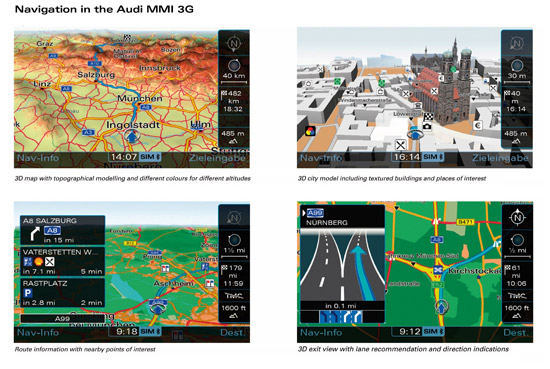 The new hard disk dramatically enhances the already high quality mapping offered by the Audi Satellite Navigation System Plus, significantly increasing the degree of detail and offering a new 3D 'digital topographical' view which gives a pictorial depiction of key landmarks to add even greater 'context'. Wherever possible it even provides a choice of three routes to a chosen destination, including one that has been specifically calculated to require the least possible consumption of fuel.
The latest generation Multi Media Interface with HDD navigation is now fitted as standard to A8 models, and will be available as an upgrade for Q7, Q5, A6, A5 and A4 ranges in the near future. The Audi Music Interface enabling iPod connectivity can be added to the system at extra cost. For the optimum listening experience, the new unit can be combined in many models with speaker systems from Bang & Olufsen offering up to 1,000 watts of music power.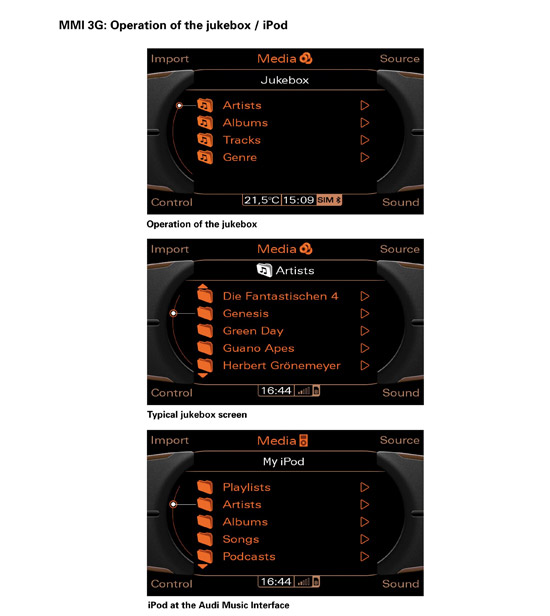 Audi UK has enjoyed an exceptionally rapid rise to prominence in the premium sector. Since 2000, when just over 43,000 Audi models found homes in the UK, the brand has consistently broken its annual sales records year-on-year, and in 2007 successfully passed the milestone 100,000 sales barrier. It is continuing to perform exceptionally well in a declining market by extending its reach into important new segments with strong offerings such as the A3 Cabriolet, A5, RS 6, Q7 and R8, and by consolidating its presence in its traditional heartland with core models like the all-new A4 and A4 Avant.