Blue is the colour to save money
Whether it's increased fuel prices or the proposed increases in vehicle taxation, the cost of running a car continues to rise.
Peugeot, can, however, through their range of Blue Lion vehicles, help motorists reduce the impact of these increasing costs.
With all models in the Blue Lion range achieving a combined fuel consumption of between 56 and 64 mpg, fuel costs are reduced.
Combined with their low CO2 outputs (between 109 g/km and 130 g/km) and attracting vehicle excise duty of between £35 and £120, tax costs are reduced as is Company car tax liability. Also, with regards to the planned increases in vehicle excise duty in 2009/10, these vehicles will still be saving money as each will see a further reduction in duty.
Therefore, owning a Peugeot Blue Lion car is more than just saving money, it's a good investment. But sometimes, the most fuel efficient, environmentally friendly cars are only available in single models or are small city cars.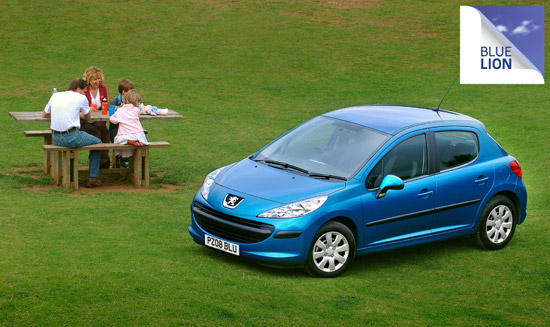 Not the case with Peugeot's range of Blue Lion cars which cover everything from a 107 super-mini to the stylish 207 hatchback or spacious 207 SW, the best selling 207
CC Coupé Cabriolet, the elegant and well equipped 308 hatchback and, finally, the ideal family load carrier, the versatile 308 SW.
Peugeot's Blue Lion Range of Vehicles
| | | | | | |
| --- | --- | --- | --- | --- | --- |
| Model | Version | Combined Fuel Consumption (mpg) | CO2 Emissions (g/km) | VED 2008 | Planned 2009/10 |
| 107 | Urban Lite 1.0 | 61.4 | 109 | £35 | £20 |
| 107 | Kiss | 61.4 | 109 | £35 | £20 |
| 107 | Urban | 61.4 | 109 | £35 | £20 |
| 107 | Urban 2-Tronic | 61.4 | 109 | £35 | £20 |
| 107 | Urban Move | 61.4 | 109 | £35 | £20 |
| 107 | Sport | 61.4 | 109 | £35 | £20 |
| 107 | Urban 5 Dr | 61.4 | 109 | £35 | £20 |
| 107 | Urban 2-Tronic  5 Dr | 61.4 | 109 | £35 | £20 |
| 107 | Urban Move 5 Dr | 61.4 | 109 | £35 | £20 |
| 1007 | SE 1.4 HDi 70 | 60.1 | 124 | £120 | £90 |
| 1007 | SE 1.6 HDi 110 | 58.9 | 125 | £120 | £90 |
| 206 | Look HDi 70 | 64.2 | 116 | £35 | £30 |
| 206 | Look HDi 70 5 Dr | 64.2 | 116 | £35 | £30 |
| 207 | Urban HDi 70 | 64.2 | 117 | £35 | £30 |
| 207 | S HDi 70 | 64.2 | 117 | £35 | £30 |
| 207 | S HDi 90 | 64.2 | 117 | £35 | £30 |
| 207 | Sport HDi 70 | 64.2 | 117 | £35 | £30 |
| 207 | Sport HDi 90 | 64.2 | 117 | £35 | £30 |
| 207 | Sport HDi 110 | 60.1 | 124 | £120 | £90 |
| 207 | GT HDi 110 | 60.1 | 124 | £120 | £90 |
| 207 | Urban HDi 70 5 Dr | 64.2 | 117 | £35 | £30 |
| 207 | S HDi 70 5 Dr | 64.2 | 117 | £35 | £30 |
| 207 | S HDi 90 5 Dr | 64.2 | 117 | £35 | £30 |
| 207 | Sport HDi 70 | 64.2 | 117 | £35 | £30 |
| 207 | Sport HDi 90 | 64.2 | 117 | £35 | £30 |
| 207 | Sport HDi 110 | 60.1 | 126 | £120 | £90 |
| 207 | SE Premium 90 HDi | 64.2 | 117 | £35 | £30 |
| 207 | GT HDi 110 | 60.1 | 126 | £120 | £90 |
| 207 CC | Sport HDi 110 | 56.4 | 130 | £120 | £90 |
| 207 CC | GT HDi 110 | 56.4 | 130 | £120 | £90 |
| 207 SW | S HDi 90 | 62.8 | 119 | £35 | £30 |
| 207 SW | Sport HDi 90 | 62.8 | 119 | £35 | £30 |
| 207 SW | Outdoor HDi 90 | 60.1 | 125 | £120 | £90 |
| 308 | Urban HDi 90 | 62.7 | 120 | £35 | £90 |
| 308 | S HDi 90 | 62.7 | 120 | £35 | £90 |
| 308 | S HDi 110 | 57.6 | 129 | £120 | £90 |
| 308 | Urban HDi 90 5 Dr | 62.7 | 120 | £35 | £30 |
| 308 | S HDi 90 5 Dr | 62.7 | 120 | £35 | £30 |
| 308 | S HDi 110 5 Dr | 57.6 | 129 | £120 | £90 |
| 308 | S HDi 110 EGC 5 Dr | 62.7 | 120 | £35 | £30 |
| 308 | SR HDi 90 5 Dr | 62.7 | 120 | £35 | £30 |
| 308 | SR HDi 110 5 Dr | 57.6 | 129 | £120 | £90 |
| 308 | SR HDi 110 EGC 5 Dr | 57.6 | 120 | £35 | £30 |
| 308 | Sport HDi 90 | 62.7 | 120 | £35 | £30 |
| 308 | SE HDi 110 5 Dr | 57.6 | 129 | £35 | £30 |
| 308 | SE HDi 110 EGC 5 Dr | 62.7 | 120 | £35 | £30 |
| 308 | SW S HDi 90 | 60.1 | 125 | £120 | £90 |
| 308 | SW S HDi 110 | 57.6 | 129 | £120 | £90 |
| 308 | SW SR HDi 90 | 60.1 | 125 | £120 | £90 |
| 308 | SW SR HDi 110 | 57.6 | 129 | £120 | £90 |