BMW F10 M5 around Circuit de Nevers Magny-Cours [video]
You will never suggest that a big family saloon car can be as fast as Porsche 911 997 C2S around a race track. Of course, but the new BMW F10 M5 is not a typical vehicle. It has eight cylinders, two turbochargers, an astonishingly fast gearbox and amazing suspension.
You can see in the video below, which is recorded by MotorSport an entire single lap around the Circuit Magny-Cours in France. The new M5 records a time of 1:24.89 minutes meaning that the saloon is faster than RS5, 1M Coupe and C63 AMG Coupe.
2012 BMW F10 M5 is powered by a 4.4 liter twin-turbo V8 with 560PS (412 kW) at 5750RPM and 680Nm(502 lb-ft) at just 1500RPM. The performance is superb - 4.4 seconds to 100 km/h, 13 seconds to 200 km/h and a top speed of 250 km/h (155 mph) – electronically limited.
The engine is mated to a new 7-speed M Double Clutch Transmission Drivelogic and Efficient Dynamics technology, including engine Auto Start-Stop and Brake Energy Regeneration. The transmission has manual (S) and fully automated (D) shift options, with three.
Enjoy the video!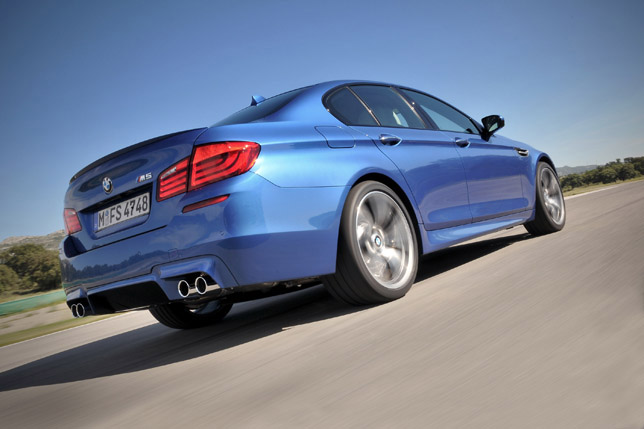 Source: Magazinemotorsport via Youtube