BMW M5 F10 vs Porsche Panamera S vs Mercedes E63 AMG vs Jaguar XFR [video]
Here is an interesting battle between four sports saloons - BMW M5 F10, Porsche Panamera S, Mercedes E63 AMG and Jaguar XFR. All come with extremely powerful engines, aerodynamics packages, huge rims and brake systems, and good ride comfort.
First, the latest BMW M5 powered by a brilliant twin-turbo 4.4-liter V8 with 560PS (412 kW) at 5750RPM and 680Nm(502 lb-ft) at just 1500RPM. The engine has M TwinPower Turbo technology, twin-scroll turbochargers, high-precision direct fuel injection, VALVETRONIC variable valve control and a cross-bank exhaust manifold meaning an acceleration to 100 km/h in just 4.4 seconds, to 200 km/h in 13 seconds and top speed of 250 km/h (limited).
Second is the mighty E63 AMG having a new 5.5 liter bi-turbo V8 delivering 525PS (386 kW) and 700Nm (516 lb-ft) of torque. The acceleration is slightly better than this in M5 – 0 to 100 km/h in 4.3 seconds and the top speed is again 250 km/h (limited).
Third is a sports saloon from the UK – Jaguar XFR coming with a 5.0 liter supercharged V8 with 510PS (375 kW) and 622Nm (461 lb-ft) of torque. The performance is close – 0 to 100 km/h in 4.5 seconds and a top speed of 250 km/h (limited). The 2012 XFR features new sill extensions, a redesigned 20" wheels, adaptive dynamic suspension and full aerodynamic styling.
Last is the Porsche Panamera S, which is least powerful with its 4.8 liter naturally aspirated V8 with 400PS (294 kW) at 6500RPM and 500Nm (369 lb-ft) of torque at 3500RPM. Panamera S accelerates to 100 km/h in 5.4 seconds and has a top speed of 285 km/h.
Which is best? Check out the video, below!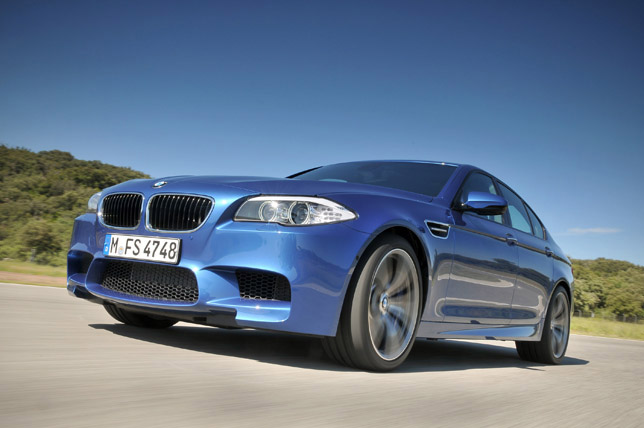 Source: evo.co.uk via Youtube