BMW Sauber F1 Team - Australian GP
Melbourne (AUS). The BMW Sauber F1 Team had a disappointing start to the 2009 season with both cars involved in accidents. Nick Heidfeld's race was already hopeless after he was hit in the first corner and then brought the damaged car home in 11th. For team mate, Robert Kubica, the Australian GP was a lot more dramatic. With only three laps to go the Pole was fighting for second place with Sebastian Vettel (Red Bull) when the cars touched, crashed and retired.
Nick Heidfeld: 11th BMW Sauber F1.09-04 / BMW P86/9 (KERS) Fastest lap: 1:28.283 min on lap 48 (5th fastest overall) "Today's outcome to the race is extremely disappointing for me. I had such a good start and was able to make up positions straight away. My strategy was promising too. Then in the braking zone for the first corner I felt safe because when I looked there was no car next to me. I was in the middle of the track but suddenly I got a big bang. I had to pit for new tyres and a front wing, but the damage to the car was a lot more than that and driving with it was hopeless. I think at least the KERS helped me to defend my position with such a slow car. But in the end it didn't matter much because who cares if you finish 11th or 13th."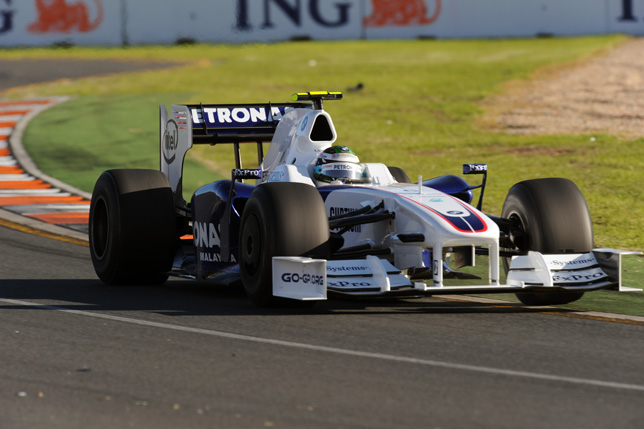 Robert Kubica: accident BMW Sauber F1.09-03 / BMW P86/9 Fastest lap: 1:27.988 min on lap 36 (2nd fastest overall) "What a disappointment! I had a chance to win this race because Jenson Button and Sebastian Vettel were on soft tyres and struggling, while I was on the harder compound and was able to drive much quicker. Sebastian went wide in corner one and then he braked early. I was already in front, but he didn't want to let me by. Then he had a lot of understeer and touched me. My front wing was under the car, therefore I crashed in corner 5. I think Sebastian was a bit too optimistic. Had this been the last corner okay, but there were still three laps to go and he really had no realistic chance to defend his position because I was so much quicker. We both had a great weekend up to this point and we leave Melbourne with nothing. That's a real shame! My car was very good, particularly in the second stint when I set the best lap times. That's racing!"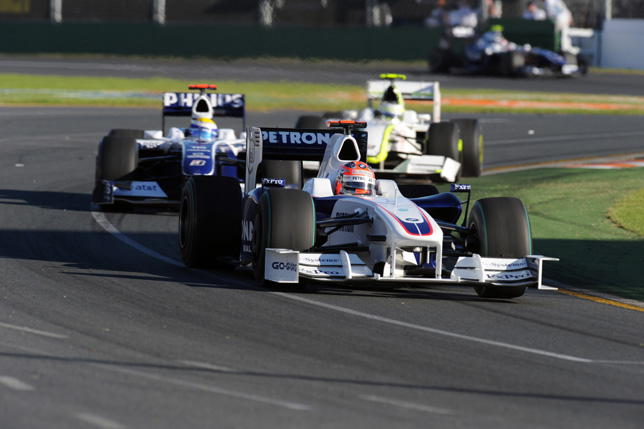 Mario Theissen (BMW Motorsport Director): "As quite often happened in the past we had another race in Melbourne with a lot of drama. Nick's hopes had already gone in the first corner. After a collision, which wasn't his fault, he was not only a long way behind, but also his aerodynamics were ruined, which made it impossible for him to catch up. Robert drove an excellent race and got himself up with the leaders in the final laps of the race. He was on the harder tyre compound, and had every chance to catch the two cars in front of him to win the race. The collision three laps before the flag ended the race for him and also for Sebastian Vettel, so both drivers lost a podium and points. On the positive side, I can say that today we were very fast on the harder tyres."
Willy Rampf (Head of Engineering): "This was a turbulent start to the season, particularly for our team. Nick lost his chances in the race immediately after the start following a crash, which was not his fault. Robert was even unluckier. First he was catching the leading cars. And then, just a few laps from the end, he was able to attack the frontrunners. Because of our tyre choice, Robert was on the harder compound on the last stint, unlike his competitors on the soft. At this stage our car was much quicker than the two leading ones. When Robert overtook Sebastian Vettel he was already in front when Sebastian touched him. This cost us second place or even the victory."