BMW Sauber F1 Team - European Grand Prix - Race
Valencia (ES). At the maiden F1 event in Valencia Robert Kubica finished third. It is the eighth podium for the BMW Sauber F1 Team in 2008 and the fifth this season for the Pole. Kubica started the European Grand Prix from third on the grid. Team mate Nick Heidfeld slid from eighth to ninth immediately after the start and did not score in Spain.
Robert Kubica: 3rd BMW Sauber F1.08-05 / BMW P86/8 Fastest Lap: 1:39.330 min on lap 38 (4th fastest overall) "I started pretty well but in corner 1 I went over the kerb and Lewis was closing. In the second corner I was going to overtake Lewis, but I saw Felipe braking quite early. It would have been too much of a risk, as I could end up overshooting the braking point and crashing into him. Over the next few laps I was consistently a bit slower than Lewis. Suddenly I saw a white plastic bag flying across the track, but could not avoid it and it went under the car. I couldn't steer for two corners, which was extremely dangerous. Fortunately most of the bag soon flew away, but my confidence was very low over the next sector, and I lost around three seconds. In the end I finished third. Eventually I think my good qualifying result yesterday was crucial for today's result."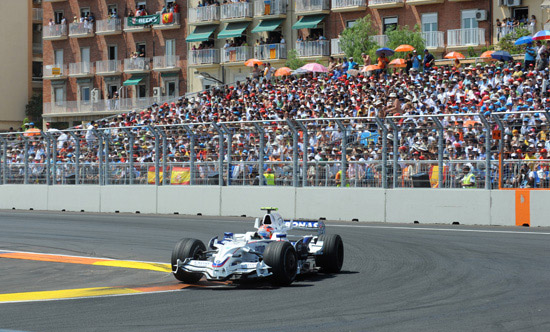 Nick Heidfeld: 9th BMW Sauber F1.08-07 / BMW P86/8 Fastest Lap: 1:39.526 min on lap 57 (7th fastest overall) "This was one of the worst races ever for me. To finish ninth in a car which is obviously good enough for third is a disaster. After qualifying I was pretty confident because we realised we could go well. But in the race I had big problems with the harder tyres during the first two stints, and it was only better at the end with the softer compound. I lost one position after the start and later in the race I couldn't gain any. The pace wasn't there."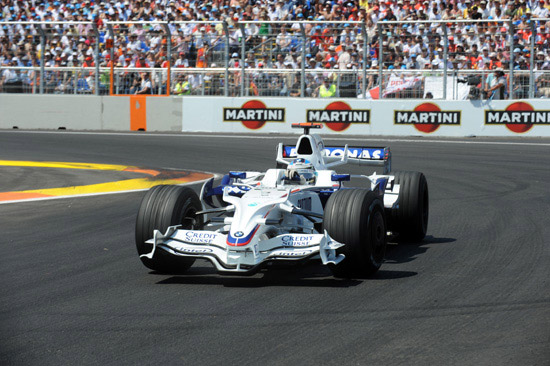 Mario Theissen (BMW Motorsport Director): "First of all a big compliment to the organisers of the event for such a good first race. The atmosphere in the city and at the circuit around the harbour is just fantastic. From now on Valencia will be one of the season's highlights. Certainly we enjoyed being back on the podium, with it being the fifth time this year for Robert. He drove a strong race. During the early laps he had some trouble as a plastic bag was stuck on his car and affected its handling. Apart from this both cars ran trouble free and the pit stops went well. Starting from eighth was not an ideal situation for Nick. We were hoping he would improve one or two places at the start, but in the heat of the moment he unfortunately lost a position and then the race was basically over for him."
Willy Rampf (Technical Director): "This was a race without too much excitement. Our most difficult moment was when Robert radioed he had a problem. On the telemetry data we could see that his car lost downforce, which was due to a plastic bag stuck to the floor of the car. During the first pit stop we removed it, and after this, everything was fine again. At the start Robert almost overtook Lewis Hamilton, but finally it didn't work out. He then drove a good and consistent race, and he finished in third. Nick started from eighth, hence we expected him to score championship points. However, his pace was simply too slow. Of course we are happy about Robert's podium finish, but overall we expected to score more points today."