BMW Sauber F1 Team - Singapore Grand Prix
Singapore (SG). Instead of the predicted procession on the narrow Singapore Marina Circuit, the huge crowd saw a very exciting first Formula One night race. However, the rewards for the BMW Sauber F1 Team were somewhat poor with only three points for Nick Heidfeld (6th) after Robert Kubica's very bad luck. The Pole needed to refuel when the pit lane was closed during a safety car period, and after being penalised he finished eleventh.
Nick Heidfeld: 6th BMW Sauber F1.08-07 / BMW P86/8 Fastest Lap: 1:47.306 min on lap 14 (11th fastest overall) "Although I shouldn't complain about finishing sixth when I came from ninth, I must say it is such a shame I couldn't show my pace today. The car was so good and I could have gone a lot faster if I hadn't been stuck in traffic all the time. I was even saving fuel and tyres because I hoped the others would kill their tyres and I could attack later. I think some did ruin their rubber, but still this wasn't enough of an advantage to overtake. I had a good start during which I managed to pass Nico Rosberg. However, because of how the race turned out for me I hardly sweated at all."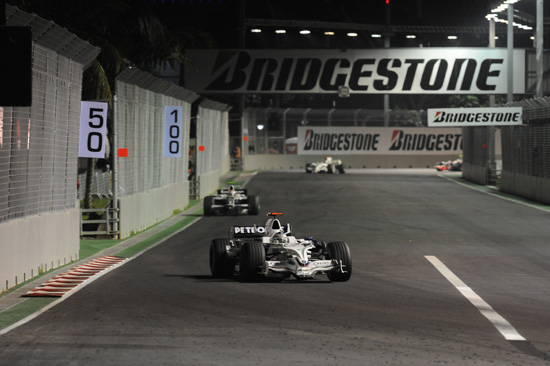 Robert Kubica: 11th BMW Sauber F1.08-05 / BMW P86/8 Fastest Lap: 1:46.899 min on lap 14 (6th fastest overall) "The race was physically very hard. There are so many bumps, I hope the organisers will work on the surface for next year. On top of that, the visibility was getting worse and worse as I was getting tired. Over the final fifteen laps I had an incredible headache. The decision not to pit on the first lap when the pit lane was closed because of the Safety Car was unlucky, and cost me a good race result as the cars behind me closed the gap. The team thought the pit lane would reopen very soon, but this was not the case. However, that's racing."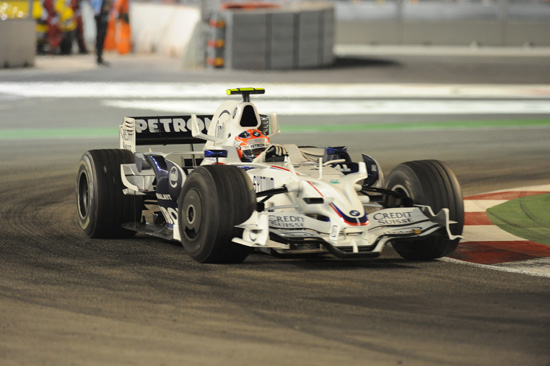 Mario Theissen (BMW Motorsport Director): "Another spectacular chapter was added to the Formula One history book. The first night race was a total success. My compliments go to the organisers. The race itself was turbulent and influenced by the first safety car period. Unfortunately the safety car rule meant Robert was completely out of contention in the race, whereas Nick was able to stay out just long enough until the pit lane was reopened. This was a shame for Robert because he was well on his way to score important points for the championship standings. By finishing sixth Nick made up three positions and scored three points. Everything didn't go according to plan either for our direct competitors as, apart from Nick, out of the top six only Lewis Hamilton scored points. Congratulations to Renault and Fernando Alonso for the win in this exciting race."
Willy Rampf (Technical Director): "The race start was okay for our drivers. Robert managed to defend his position and Nick gained a place. After that the race went according to plan for both cars and they were able to open a gap over the cars behind. However, then the first safety car period ruined Robert's race completely. We had to refuel although the pit lane was still closed. The penalty dropped Robert into a hopeless position at the end of the field - and this on a circuit where anyway you can hardly overtake. In the end Nick scored three points, so this means we have still scored championship points in every Grand Prix this year."