BMW Team Germany celebrates in Valencia
Augusto Farfus (BR) was the winner of the FIA World Touring Car Championship's tenth round. At the "Circuit de la Comunitat" in Valencia (ES), the BMW Team Germany driver scored his tenth WTCC victory. Jörg Müller (DE) finished second, thus making it the first BMW one-two since Brno 2008. The other BMW national team drivers also collected points: BMW Team UK's Andy Priaulx (GB) was fourth, while Alessandro Zanardi (IT) and Sergio Hernández (ES) came fifth and sixth respectively for BMW Team Italy-Spain. In the first race of the day Hernández secured pole position for race two by finishing eighth, with Farfus, Müller and Priaulx coming fourth, fifth and sixth. Victory went to SEAT driver Yvan Muller (FR).
In the Drivers' Championship Farfus successfully reduced the gap to leader Muller. He now has 54 points to his name, just three points less than the 2008 world champion. With 35 points, Priaulx improved to fourth in the overall classification. In the manufacturers' standings BMW increased its tally to 120 points and is second behind SEAT.
At the start of race one, Farfus narrowly avoided an early retirement. He was pushed onto the grass by SEAT's Jordi Gené (ES), dropping from 5th to 11th. Over the course of the race, however, he managed to gain ground and passed no less than seven cars. Farfus eventually finished fourth, and scored five points. Priaulx also moved up from 14th on the grid and joined Farfus on his way through the field. For the triple world champion this chase resulted in a fifth-place finish.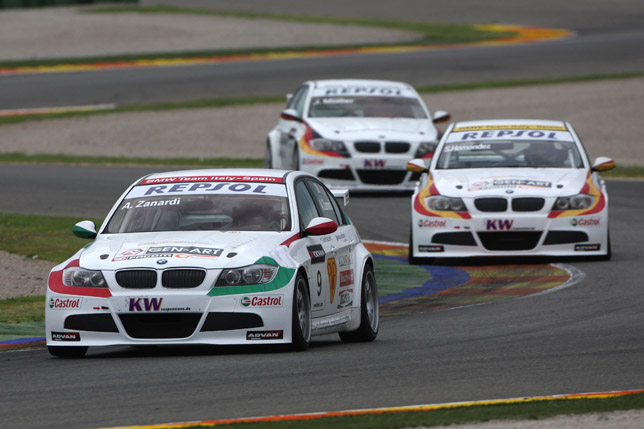 Müller made an excellent start. The 39-year-old improved from 11th to 4th, keeping in touch with the three leading SEAT's for most of the race. On the final lap he let his fellow BMW drivers Farfus and Priaulx pass before crossing the line in sixth. Zanardi lost a lot of places after a collision in the usual rolling start turmoil, but then once more proved his fighting spirit and made his way back to 12th. Hernández started well from 13th. Only Farfus and Priaulx managed to overtake the local hero, who took the chequered flag in eighth, thus claiming pole position for race two.
When the afternoon race got underway, Hernández defended his lead in the first corners, but then had to let Müller go, who made another good start. On lap 2, Farfus also overtook the Spaniard, paving the way for BMW Team Germany's first one-two result for almost two years. After Farfus also got by Müller a lap later, the leading pair quickly opened up a gap on the rest of the field and kept their positions until the end of the race.
For one lap, it was even a BMW trio leading the race, as Priaulx launched a successful attack on third-placed Gabriele Tarquini (IT). However, the SEAT driver managed to fight back on lap 9, and Priaulx had to make do with finishing fourth. Zanardi leapfrogged from 12th to 6th thanks to a great start. On lap four, he passed Hernández for fifth. The BMW Team Italy-Spain pairing defended these positions to the finish.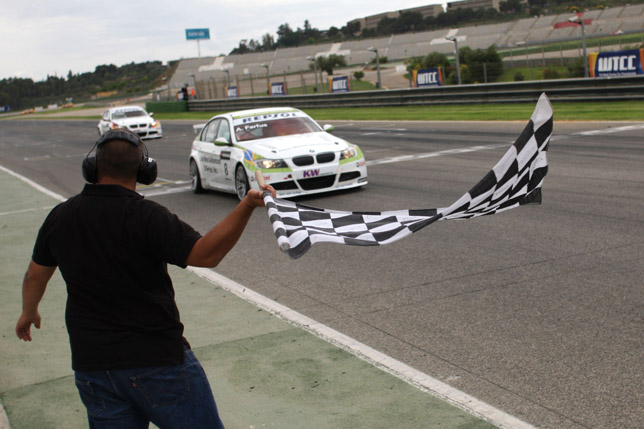 Augusto Farfus (BMW Team Germany): "This victory was very important for us. We made the most of this weekend after a difficult start. Even with a perfect start, it would have been virtually impossible to challenge the leading SEAT's in the first race. Following a good start, I managed to overtake Jörg early on in the second race, and after then it was flawless for me. I want to say thanks to my team and BMW Motorsport, who made this win possible."
Jörg Müller (BMW Team Germany): "We couldn't expect such a good result after qualifying. The first race was tough. I just had no chance to overtake Gabriele Tarquini. Following a small set-up change during the break, the second race went better. Augusto was clearly faster than me on the opening laps, as I suffered some problems with my tyre pressures. Therefore I decided not to block him unnecessarily. Overall I'm really happy with this result."
Andy Priaulx (BMW Team UK): "After starting race one from 14th on the grid, salvaging nine points from the weekend isn't bad. My car felt much better today than in yesterday's qualifying. It could have gone better, but also much worse. The fight with Gabriele Tarquini was tough, but fair."
Sergio Hernández (BMW Team Italy-Spain): "On the one hand, I'm satisfied with winning four points at my home event. On the other, you obviously hope for more when starting from pole position. But it was not possible to achieve this goal today. I would have loved to be on the podium in front of all the Spanish fans."
Alessandro Zanardi (BMW Team Italy-Spain): "I started well in both races, but the outcome was different. In the first race another car hit me heavily in the rear and sent me into the gravel. I was happy to make it to the finish in 12th. In race two the start then went perfectly and put me into the group of front-runners at the very beginning. This is a good result for our team."