Brawn GP at the German Grand Prix
Brawn GP endured a disappointing race at the German Grand Prix today despite Jenson Button and Rubens Barrichello bringing their Brawn-Mercedes cars home in points-scoring fifth and sixth positions respectively.
Both drivers were on a three-stop strategy and started the race on the softer option tyre. Rubens had a great start to be leading coming out of turn one whilst Jenson dropped to fifth position before overtaking Massa into turn one on the second lap.
Jenson stopped first on lap 13, followed by Rubens one lap later with both drivers staying on the option tyre. They switched to the primes at their second stop on lap 30 for Jenson and lap 31 for Rubens. A problem with the fuel rig at Rubens' stop forced the team to switch rigs, costing valuable seconds which dropped Rubens behind Nico Rosberg.
The pair pitted for the final time on lap 49 for Rubens who stayed on the prime tyre and one lap later on lap 50 for Jenson who switched to options and came out just ahead of his team-mate.
Weather: Cool Temperatures Air: 18-19°C Track: 25-32°C
JENSON BUTTON - 22 BGP 001-02 P5 01:34.252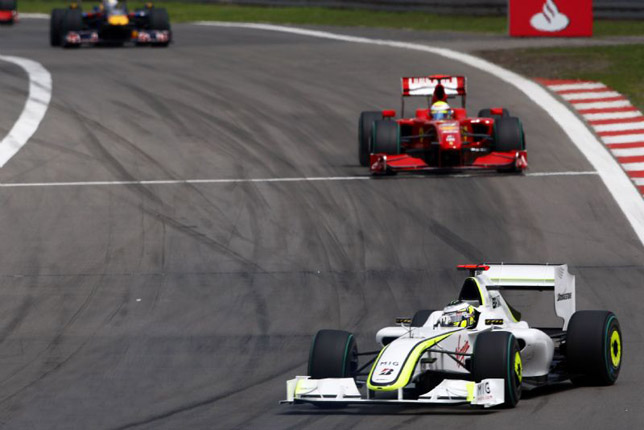 "All points are valuable but my race started badly and didn't get much better today. I had a poor start to drop back to fifth after the first turn and was able to get ahead of Massa at the start of the second lap but just couldn't get past Kovalainen. His pace was way off what we could have achieved at that point of the race but there was just no way through. We struggled with graining and tyre degradation throughout with both tyres not working well for us. The problem with the fuel rig at Rubens' second stop also affected my race as we were so close on the track and he was struggling with the prime tyre. So overall it has been a tough and disappointing day for the team. Congratulations to Mark on his first win and I'm really pleased for him as I know how good that feels. I just can't wait to get to Hungary in two weeks where we will have new parts and hopefully warmer weather to take the fight to the Red Bulls."
RUBENS BARRICHELLO - 23 BGP 001-01 P6 01:34.676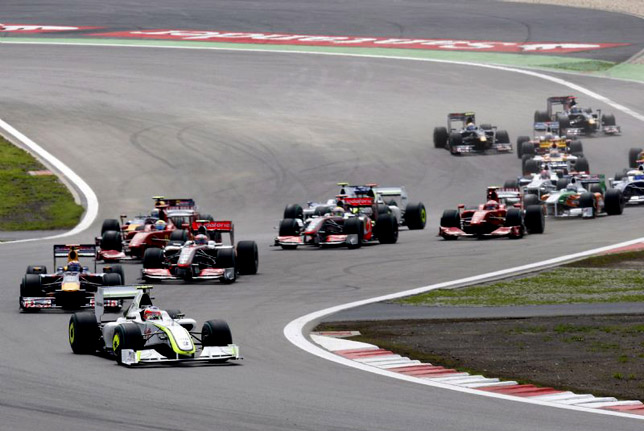 "I had a great start today and was really pleased to have got ahead of Mark down into the first corner despite our collision. After leading on the first lap, it is of course hugely disappointing to have finished in sixth position. It was a combination of things really which are now very clear to me having spoken to the team. We didn't have enough pace compared to the Red Bulls to win but the fuel rig problem at my second stop where we had to switch rigs probably cost me a place on the podium. That dropped me out behind Rosberg and the extra lap which Jenson had at our final stops was enough for him to get ahead of me. We'll put this race behind and work really hard ahead to Hungary to try and catch up to the Red Bulls. Congratulations to Mark for his first win."
ROSS BRAWN
"Without doubt it was a very disappointing race for the team today although we were able to score some points to minimise the damage to our championship challenge. Quite simply, we didn't have the pace to match the Red Bulls. We opted for a three-stop strategy for both cars to give ourselves the best possible chance of achieving a podium position. Both drivers were battling with the tyres throughout the race and trying very hard to keep them in the operating window whilst managing their graining issues. The problem with the fuel rig at Rubens' second stop dropped him out behind Rosberg which compromised his race strategy and possibly prevented him for achieving third position. Jenson had a difficult start which dropped him down to fifth and he was also affected by Rubens' problems at the second stop which resulted in the two cars being so close on the track. We will take a close look at the lessons to be learned from this weekend before Hungary and hope to come back fighting there with some performance developments which should help us close the gap to Red Bull. Finally our congratulations to Mark Webber on a very well-deserved first win today."
German Grand Prix - Race Results
=========================================
1  M. Webber      Red Bull Racing 2  S. Vettel      Red Bull Racing 3  F. Massa       Scuderia Ferrari Marlboro 4  N. Rosberg     AT&T Williams 5  J. Button      Brawn GP Formula One Team 6  R. Barrichello Brawn GP Formula One Team 7  F. Alonso      ING Renault F1 Team 8  H. Kovalainen  Vodafone McLaren Mercedes 9  T. Glock       Panasonic Toyota Racing 17 J. Trulli      Panasonic Toyota Racing