Brawn GP at the Hungarian Grand Prix
Brawn GP's Jenson Button finished in seventh position at the Hungarian Grand Prix with team-mate Rubens Barrichello bringing his Brawn-Mercedes car home just outside the points in 10th place.
Jenson had a reasonable getaway from eighth on the grid and had maintained his starting position by lap two whilst Rubens was touched by another car going into turn two resulting in some damage to his left sidepod and dropped back to 18th position.
Both drivers were heavily fuelled on different tyre strategies with Jenson stopping first on lap 25 to swap his option tyres for a new set. Rubens started on the harder prime tyre and stayed with that compound at his first stop on lap 33 when it was evident that Jenson was struggling with the softer rubber.
After a long middle stint, Jenson pitted on lap 55 with some quick lap times and good work in the pit lane enabling him to jump Trulli for seventh place. Rubens switched to the options on lap 57 and quickly caught up Nakajima and Trulli but was unable to get past on a track notoriously difficult for overtaking.
Weather: Warm and sunny Temperatures Air: 25-26°C Track: 37-45°C
Jenson Button 22 BGP 001-02 P7 01:22.706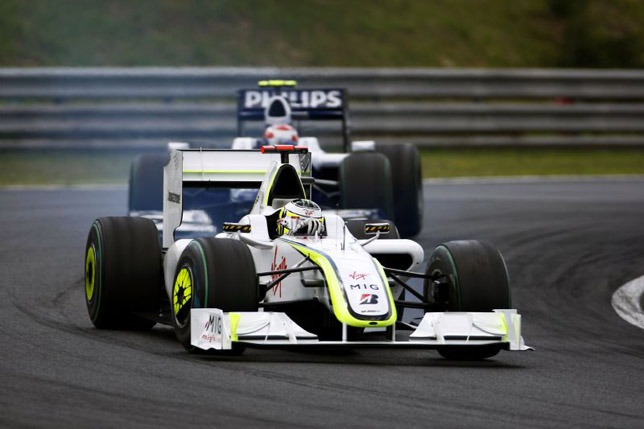 "We felt positive that we could get a good result today but unfortunately it turned into damage limitation for our championship challenge. I was heavily fuelled after qualifying and our plan was to get a good start, stay with the cars in front and then I was going longer at the first stop. My rear tyres grained massively in the first few laps which took away any chance that I had of keeping pace with the front-runners. We don't know what the problem is right now as our pace on the option tyre on Friday was pretty good and we were able to manage the rear end much better than some of the others. The car just doesn't feel like it did a few races ago but we'll work hard to identify the problems before Valencia. It's disappointing as we had high hopes for this race but we were fortunate to come away with two points."
Rubens Barrichello 23 BGP 001-01 P10 01:23.024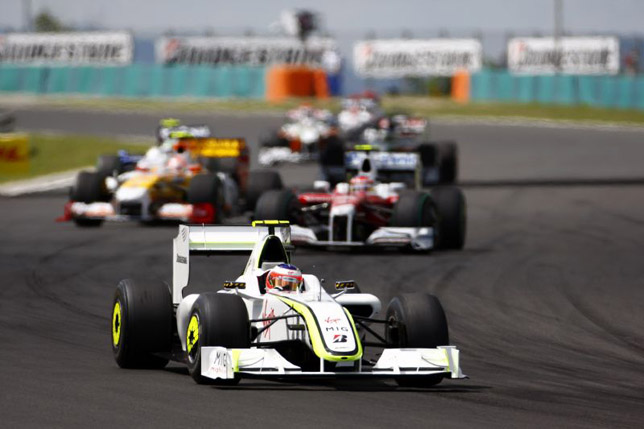 "There was some good action out there but my race was really compromised from the start which is a shame as the potential was definitely there for a points finish. I had some contact from another car when I turned into the second corner which dropped me to the back of the field. It was always going to be difficult to make progress from there but there were flashes of pace, particularly during the last stint when I was able to close up to the cars ahead. It's been a very difficult weekend and one to forget really. We know that we have a lot of hard work ahead of us to find out what is affecting our performance."
ROSS BRAWN
"Hungary has proved to be a very challenging weekend for the team which has left us with a number of questions to answer regarding the performance of the car. After a positive start on Friday where we felt that we had a good understanding of the tyres, they proved to be our main area of concern in the race today. Both drivers tried different strategies with their tyre choices but we were unable to prevent the graining which affected their pace at crucial stages of the race. We have four weeks until the next race and after our factory shutdown we will be working extremely hard to identify the cause of our recent issues and make the improvements required to return to our early season form. Finally congratulations to Mercedes-Benz on a very well-deserved win today for what is their seventh victory of the season."