Brawn GP Won Fourth Victory at the Spanish Grand Prix
Brawn GP achieved the team's second one-two result of the 2009 Formula One season today with Jenson Button taking his fourth victory of the year at the Spanish Grand Prix in Barcelona and team-mate Rubens Barrichello securing second position.
Starting from third on the grid, Rubens had a fantastic start to the race as he passed Sebastian Vettel and Jenson, who started on pole, on the run down to the first corner. A multi-car collision brought out the safety car for the first four laps of the race with Rubens and Jenson heading the field in first and second positions.
With the racing underway on lap five, the two Brawn-Mercedes drivers concentrated on building a gap at the front. Jenson pitted first on lap 18 where his planned three-stop strategy was switched to a two-stop, followed by Rubens on lap 19. Rubens pitted for the second of his three stops on lap 31 and struggled with his tyres throughout his third stint which allowed Jenson to edge ahead on strategy by the time he came in for his final stop on lap 50.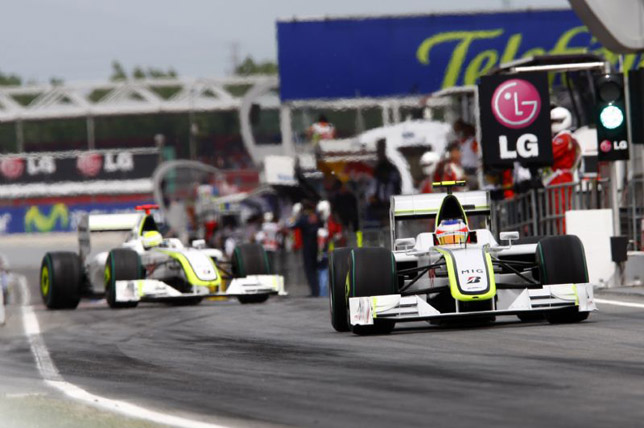 Jenson took the chequered flag at the end of the 66-lap race to achieve his fourth victory and fifth consecutive podium of the season. Rubens' second position and fastest lap of the race capped a fantastic start to Formula One's European season for Brawn GP and engine partner Mercedes-Benz. The team has now extended its lead in the Constructors' Championship with 68 points. Jenson leads the Drivers' Championship on 41 points with Rubens in second place on 27 points.
RESULTS Drivers Car No. Chassis No. Race Result / Fastest Lap Jenson Button 22 BGP 001-02 P1 01:22.899 Rubens Barrichello 23 BGP 001-01 P2 01:22.762
Weather Warm and sunny Temperatures Air: 23-24°C Track: 37-44°C
JENSON BUTTON "We thought that three-stops would be the quicker strategy here and that was what we fuelled for in Q3 yesterday. I had a good start from pole but Rubens had an absolute flier and I couldn't hold him off. Having lost the lead and with the prospect of being caught behind Rosberg, we made the decision to switch to a two-stop strategy. The car felt so heavy with the fuel on board after my first stop but I worked really hard on my final two stints to make the strategy work for me. To come away with the win is a little unexpected but it means so much to continue our run of success. Obviously Rubens is disappointed not to have got the win today and he has been a huge help over the weekend in helping me overcome the issues that I faced on Friday. His turn will certainly come. There's a great feeling within our team and I am very proud of them for producing such a great car. A special thanks to all the guys back at the factory in Brackley and to Norbert Haug and Mercedes-Benz High Performance Engines. They supported our team through the difficult times and we couldn't have achieved this without them."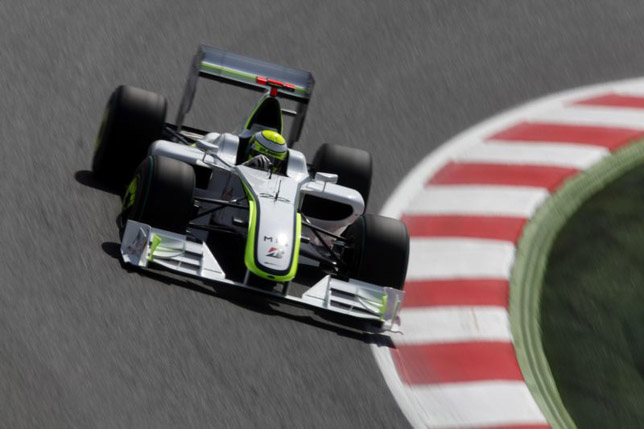 RUBENS BARRICHELLO "The race began really well for me and I had a great start overtaking Sebastian and Jenson to be leading the race coming out of turn one and through the safety car period. The car was feeling really good during the first stint and getting out from my first stop ahead of Nico on track set the race up nicely for me. I was quite surprised when Jenson's strategy was switched and from then I knew that I had to go flat out to make my strategy work. However I suffered on my third set of tyres and was not able to get the lap times which would have kept me ahead of Jenson. It was a great result for Jenson and the team today but I am disappointed not to have won the race after having such a good weekend. I am a positive person however and I am confident that my victory will come soon."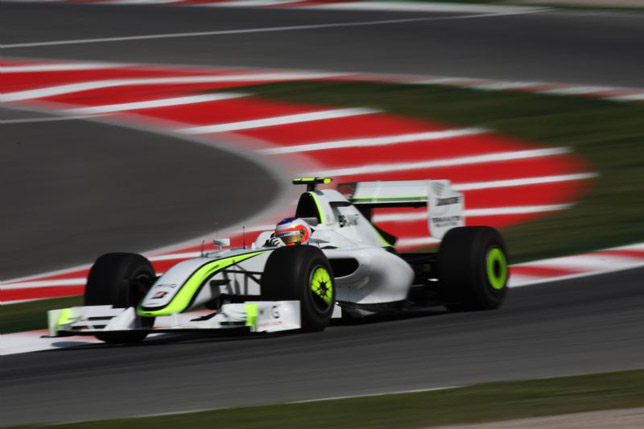 ROSS BRAWN "A fantastic result for the team today after a great deal of hard work to maximise the performance of our new developments this weekend. Rubens had a great start to be leading the race from lap one and we asked both drivers to push as hard as possible to build a lead over the chasing pack. As we approached the window for the first pit stops, it became apparent that Jenson would come out directly behind Nico Rosberg if we went with his planned three-stop strategy. We therefore made the decision to switch Jenson onto a two-stop strategy to ensure that he could run in clean air. Rubens was going extremely quickly at the front at that time and his three-stop strategy was clearly the quickest option for him. Unfortunately his tyres did not perform well after his second stop which compromised his pace and ultimately cost him the race. Rubens has performed extremely well throughout this weekend and it has been largely thanks to his input that we have been able to maximise our pace and achieve the successes of today. Our second one-two finish is a fantastic way to start the European season and I am extremely proud of Jenson, Rubens and the team. Our thanks as always to Mercedes-Benz and all of our team partners for their continued support."