Carl Edwards Wins At Memphis Motorsports Park
Carl Edwards captured his 18th NASCAR Nationwide Series victory and first at Memphis Motorsports Park. The Memphis Motorsport Park win was the seventh for Ford in 2008. This is Edwards' fifth victory of 2008. Ford has now won two of the 10 NASCAR Nationwide Series races at Memphis Motorsports Park. Ford has now won 159 NASCAR Nationwide Series races. Edwards remains second in NASCAR Nationwide Series points with three races remaining.  He trails Clint Bowyer by 116 points. This is the 96th win for team owner Jack Roush.  He is the winningest owner in the NASCAR Nationwide Series.
DREW BLICKENSDERFER – No. 60 CitiFinancial Ford Fusion – crew chief – HOW DID THINGS LOOK OUT THERE FOR YOU TODAY? "Bobby [East], he was real nervous yesterday and today.  This is an opportunity for him.  It's a tough situation to be a driver who's trying to prove himself, that he can drive and he can go out there and do it. But at the same time [he] knows, ultimately, his job is to just give feedback and not damage the car.  And that's a fine line. To go really fast, you have to be on the edge and Bobby did a good job of that.  He was nervous and we worked and talked through it.  He gave us great feedback and kept us in a basic standard short track mode for us.  The four springs, shocks and sway bars and stuff from all the short tracks we've had with Carl are real, real close.  So, we knew a basic thing and Bobby helped fine tune that in for us."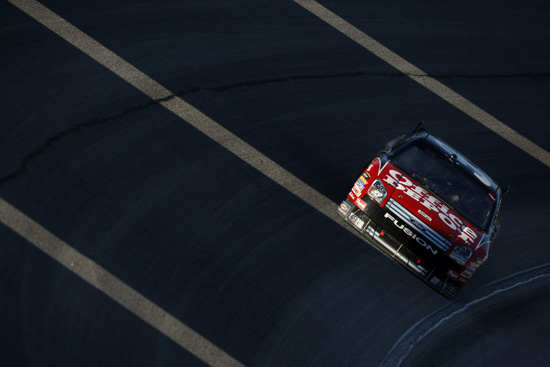 CARL EDWARDS – No. 60 CitiFinancial Ford Fusion – (finished 1st) – THE WIN TODAY GETS YOU WITHIN 116 POINTS OF CLINT BOWYER.  TALK ABOUT YOUR RACE EXPERIENCE TODAY. "It was fun all day.  I had a great time.  I forgot to thank Bobby East on TV in victory lane there.  Bobby East and his father have done a lot for racing and today they did a lot for us.  Bobby couldn't have had the car any more balanced.  It was just classic short track stuff, a little bit tight in the center and a little free off.  We did some air pressure and got it as good as we could.  That sure says a lot of Bobby East to be able to run that whole race and not turn a screw on the car, really.  We just made a couple of air pressure adjustments.  [I] Had a really good time. Drew's call early on to pit and then we stayed out and got that lucky caution for us was a genius call.  It put us in a position to really put everybody a lap down or two laps down as it was.  That was awesome.  I don't know if it was that much fun for the fans, but it sure was great for me to realize that we only had to race five or six people for the rest of the day.  I just can't believe that last restart.  Reutimann was all over me and all he had to do was bump me out of the way and that would have been a lot different race.  If I ever wear another guy's t-shirt, it will be a David Reutimann t-shirt.  That was amazing how clean he raced me at the end."
DREW BLICKENSDERFER – No. 60 CitiFinancial Ford Fusion – crew chief – CAN YOU TALK ABOUT THE CALL AND WHAT WAS THE IDEA BEHIND IT? "A lot of the calls you make that turn out that good have to be lucky.  The thing that I learned over the last couple of years crew chiefing cars from the good wins, the Jimmy Fennings, the Robbie Reisers and the people like that, that make good pit calls, is you weigh the pluses and minuses.  You err to the plus side as much as possible.  There wasn't any negative for us, at all.  If we came in and pitted and I knew that the people behind us were going to pit and we were running 19th, we'd come out the same spot with four tires. And that's what happened.  I knew people, based on last year, were worried about track position and they didn't want to come.  If we had 30 or 40 lap fresher tires and just happened to go long, which it did, we would be in a much better position situation than they were.  To have it go out that good, there was obviously luck involved in that.  Just weighing the pluses and minuses, there were more pluses than there were negatives to that."
CARL EDWARDS – No. 60 CitiFinancial Ford Fusion – DID YOU FEEL THE TRACK OWED YOU ONE BECAUSE YOU HAD A CHANCE CLINCH THE CHAMPIONSHIP? "No, no tracks can ever owe you one.  I definitely looked forward to it because of how well we'd run.  We've run really well.  We had the race where Harvick and I had a battle with a green-white-checkered and we had a right rear tire with a hole in it and he got by me and that one was hard to swallow.  Man, I wanted to win that race.  For me, this place is special. I ran my very first stock car race, NASCAR Craftsman Truck Series race here for Mike Mittler.  That was a huge day for me.  It's so strange now to look back on that race. I remember that thing being the biggest marathon.  I could hardly take my helmet off afterwards, I was so tired and worn out and spent.  This was really where my career in NASCAR started. So to come back here and leave as a winner is very special."  NOW THAT YOU'VE WON THE TROPHY, CAN YOU TALK ABOUT GETTING THAT PARTICULAR TROPHY? "I've never seen that trophy.  I never really realized how neat it is.  A bronze Elvis is about as cool as it gets.  That's pretty neat. I'm very excited to win that trophy.  I didn't know how neat it was until they brought it up there."
DREW BLICKENSDERFER – No. 60 CitiFinancial Ford Fusion – crew chief – YOU CAUGHT A LOT OF POINTS TODAY.  WILL YOU HAVE TO KEEP THE PRESSURE UP?  WILL CLINT NEED TO MAKE ANOTHER MISTAKE FOR YOU TO BE BACK IN THE CHAMPIONSHIP HUNT? "Yeah, that team is good.  They're really good.  And we've talked about that all year.  We've won five races since I came over here and we've only gained 140 points on somebody.  We wouldn't have thought that. Their bad days aren't bad.  They finished 16th or 15th or something today.  They're a really good race team.  You're probably gonna have to have another day like this for us to beat them, I think. Our goal is to win every single week.  And until it gets within 15 or 20 or something at Homestead, we don't points race.  You go out there and until there's five to go, you're trying to win the race and then you judge it during the race, trying to scale back and say, 'How can we salvage points?'  It will probably take a hiccup from them, and a hiccup from them is finishing 10th.  They are that good of a team.  We'll try and win the next three races and then if they have a hiccup and finish 10th, then we'll make it a battle maybe." WILL CARL RUN THE FULL SCHEDULE AGAIN NEXT YEAR IN NATIONWIDE?         WILL YOU BE BACK WITH HIM? OR IS THERE A CUP SERIES IN THE FUTURE FOR YOU? "No, I'm going to be back with Carl next year.  We talked about it this week, actually, Carl and I did.  The 60 car is a premier job. You would be crazy to want to go somewhere to change this.  And I don't.  I love working with Carl.  I love working with the 60 guys.  Running every single week is fun as a racer.  And getting to do it with him is pretty special. So, yes."
CARL EDWARDS – No. 60 CitiFinancial Ford Fusion –"Well, Jack will steal him sometime, if he keeps doing this good." AS THE CHASE HAS GONE ON, DOES THIS TAKE SOME OF THE STING OUT OF IT? "Anytime you win a race, it's great.  Our performances in the Chase have been spectacular.  We've run really well.  A couple of our results, two weeks in a row, we lost a total of about 200 points.  So, this is a very fickle sport though, especially when it comes down to points. Things can change dramatically very quickly, so yeah, this is a good win.  We've got a great race car over there in Atlanta.  We were fastest in both practices.  Like Drew said, it's going take Jimmie Johnson and those guys having probably two bad days out of the last four to catch them.  But, yeah, it feels good to win. That puts a little spring in your step."  WHAT'S THE CAR DOING FOR YOU IN ATLANTA? "I'm real excited about tomorrow.  The car was real fast today.  It was real fast and the balance wasn't even that great.  Bob [Osborne, crew chief] is gonna work on it a little bit and it should be really good.  I hope it's like it was in the spring where it's just a dominant car. Essentially, we have to go win the next four in that series to get where we need to get.  But I couldn't be more excited about it. Atlanta is a blast.  This is one of the most fun weekends of the year.  Racing here is fun and the track surface; I hope they never repave it.  It's perfect.  It's slippery; you can slide all over the place and have a lot of fun on the tires.  And Atlanta is the same way.  It's a really great race track, both of them."  THE NEXT THREE CUP RACES ARE GREAT FOR YOU, BUT THEY'RE ALSO GREAT TRACKS FOR JIMMIE.  HOW FRUSTRATING IS THAT? "Things always work out how they're supposed to, one way or another.  All we do is go run as hard as we can.  If we can win the last four and Jimmie finishes second, he's still going to win the championship, but if we can do that, we'll have done our part.  Definitely Talladega was a bad deal.  That was something I really regret having that happen at Talladega.  At Lowe's though, we did our jobs. We had a dominant car, a really fast car, at least, and that was just one of those racing luck deals for both ignition boxes had trouble.  The point of all that is, is that can happen to anyone.  That can happen to Jimmie.  We just have to go do our jobs and have fun doing it and that way we win no matter what."  WAS THERE A POINT DURING THOSE LAST 10 LAPS WHERE YOU WERE BRACING FOR DAVID [REUTIMANN] TO TRY AND MOVE YOU OUT OF THE WAY? "Oh, yeah. The last two laps, I'd drive down the corner and I was just painting the bottom of the race track.  Just running right down there by the grass in [turns] one and two and the rumble strips in [turns] three and four and just bracing for the hit.  I knew he was going to run into me just a little bit and move me out of the way and he didn't.  For the win, for him not to touch me, I can't see myself ever rationalizing laying a bumper on him in my career after this.  He earned a lot of respect from me."  HE WONDERED IF YOU WOULD EVER DO THAT TO HIM. "Yeah. I won't now.  I might have, I don't know. Drew told me his guys were built him up telling him, 'He'd do it to you.'  He [Drew] said he was scanning the radio and I thought, 'Oh, man, please don't.'  I don't know what would have happened but now I surely won't.  He's got the free pass from me."
DAVID RAGAN – No. 6 Discount Tire Ford Fusion – (finished 8th, qualified 7th) – WITHIN 45 LAPS, YOU MADE YOUR WAY INTO THE TOP-10.  "Yeah, are Discount Tire Ford Fusion had good speed.  It was just a matter of fine-tuning it a little bit.  Track conditions and the amount of cars on track changed things.  The car was fast. We did what everybody else did and got caught two laps down and had our hands tied the rest of the day. We had a car that could have won, if we would have been in the right position.  Carl [Edwards] was fast.  I think a couple of cars were a little quicker than us.  For the most part, it was a good day.  Our hands were tied when we got caught two laps down."  YOU HAD AN INCIDENT WITH THE 40 BUT WERE ABLE TO CHECK-UP AND NOT CAUSE ANY DAMAGE TO YOUR FUSION. "Yeah, the 40 spun and we just barely nicked him a little bit.  I was able to get it checked-up pretty quick. It's tough racing here.  We felt like we had a good car, it was just one of those days that we didn't make a couple of right decisions and we paid for it at the end.  It was just a luck deal."  WHAT'S WITH THIS TRACK?  LAST YEAR AND ALL THE CAUTIONS AND THIS YEAR WITH SIX LAPS ON THE LEAD LAP. "It's one of the short tracks that we have.  You've got a lot of rookies and a lot teams that don't run very often come out and try to run hard.  Then you have a few guys that are coming from Atlanta starting in the back. And you have some regulars that are fast.  It's a mix of everything but it's a great race track."
MARCOS AMBROSE – No. 59 Kingsford Tailgate at Home Ford Fusion – (finished 15th, qualified 15th) – "It's just another race where race strategy didn't work out. We'll take 15th.  It's not what we came here for, but we'll take it.  It was a decent points day. We just didn't get lucky on how the race ran for us.  That's the way she goes."  IT WAS A GOOD FINISH CONSIDERING YOUR FIRST LAPS TOOK PLACE ON THE PARADE LAPS.  "Yeah, Robert Pressley helped set the car up for us and he did a great job.  I feel like he really did us well by giving us a good package."
BOBBY HAMILTON JR. – No. 25 Eckrich Ford Fusion – (finished 21st, qualified 25th) – "We got caught on the pit stops and that was it. We were a top-12 car. We ran all day long and just got caught under the caution."  WHAT HAPPENED HERE AT THE END? "I think the No. 5 [Landon Cassill] just got under there and got me.  But that's just part of racing; we'll go on to another week.  What can you do?  He's a rookie.  He'll make mistakes and he'll learn from those mistakes and we've just got to go on.  I'm sure you can go ask him, that's what happened.  He just got into me on the throttle or whatever.  That's good, hard racing.  And as long as he knows what hard racing is."  YOU HAVE A LITTLE BIT OF HISTORY.  IS THAT PART OF WHAT SPURNED YOUR REACTION TO THE CONTACT? "No.  I went over to make sure he was okay and that his throttle wasn't hanging or nothing.  As long as he knows what hard racing is.  He's young.  He's going to be a great winner, a champion in this sport.  As long as he'll learn his lessons and that's what makes a great driver.  The lessons that are still to come, he'll learn.  It's Memphis, that's why the fans are in the stands."
JASON KELLER – No. 27 Cottonelle Ford Fusion – (finished 25th, qualified 14th) – "It was a long day. We were just really battling a lot of things.  We said coming into this race, we were going to use these races to figure out what we needed to do and what we needed to work on the most.  It's disappointing; I will be honest about that.  We're in this for the long haul to make it better."  WHAT CAUGHT YOU A LAP DOWN? "We were one of the ones that stayed out.  That put the icing on the cake, but we had a lot more issues than that."