Cars take to the skies for New York's free motorshow
On Saturday night, Motorexpo organizers successfully lifted over $5 Million worth of the world's most technologically advanced vehicles; placing them throughout the lobby level of the World Financial center in preparation for the opening of the 2008 World Financial Center New York Motorexpo.
The first vehicle to take to the air was a $2 Million Bugatti Veyron, which received rapturous applause from the assembled audience as it made its ascent and subsequent soft landing. Over the course of the evening, a total 17 cars were lifted some 30 feet from the ground and into position within the glass structure of the Winter Garden. Vehicles that made this journey included the latest models from manufacturers such as Aston Martin, Audi, Fisker, Ferrari, Maserati and Rolls-Royce.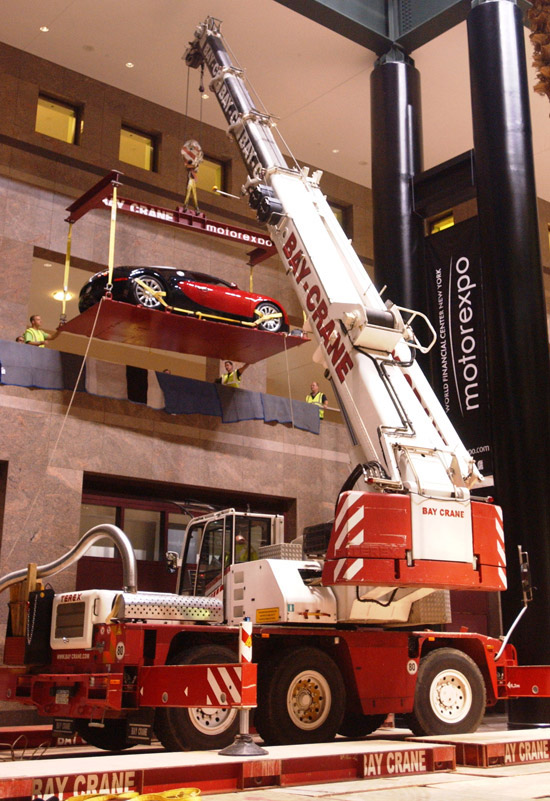 With this unique method for lifting vehicles having been devised by the partnership of Motorexpo together with Brookfield Properties, the technical expertise was provided by Bay Cranes, New York's leader in crane rental and specialized transportation services. On completion of a successful lift process, Graeme Carver, Motorexpo President said; "Having conducted a secret crane test last month I knew tat the lift would be a great successful; however the sight of so many amazing cars flying high in the winter garden was breathtaking and an image I will never forget!"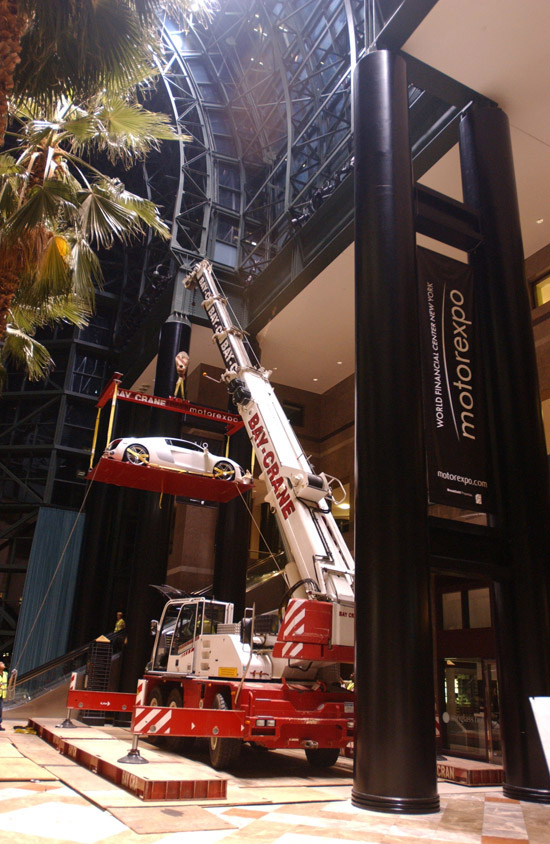 For the inaugural US Motorexpo event, vehicles from many of the world's leading motor manufacturers including Aston Martin, Audi, Bentley, Bugatti, Fisker, Infiniti, Jaguar, Land Rover, Lexus, Lincoln, Maserati, Mercedes-Benz, MINI, Porsche and Rolls-Royce will be on display throughout the indoor and outdoor public locations of the World Financial Center.
Ric Clark, President and CEO of Brookfield Properties said, "Brookfield Properties is pleased to welcome Motorexpo to the World Financial Center in Lower Manhattan following 13 successful years at Canary Wharf. This world-class motor show represents the most ambitious event in the twenty years of public programming at the World Financial Center and will give New Yorkers the chance to enjoy the exhibits and experiences of Motorexpo while taking in this beautiful location along the Hudson River in downtown Manhattan.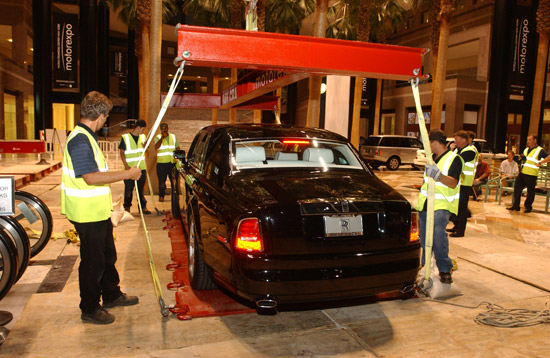 The 2008 World Financial Center New York Motorexpo is completely free for the public to visit and is open daily from Monday September 15 – Friday September 19 between 10am and 6pm. There will be a special late night opening on Thursday September 18, when the show will be open until 8pm.