Champion of the Inaugural Jetta TDI Cup Series has Strong Finish in Daytona
Josh Hurley, winner of the first ever Jetta TDI Cup, was signed by APR Motorsport and is competing in the 2009 Koni Sports Car Challenge Championship. Racing an APR tuned GTI, Josh Hurley and co-driver Ian Baas will compete in the Street Tuner Class.  The Fresh from Florida 200 marked the first race of the season and was held at Daytona International Speedway in Daytona Beach, Florida.
After starting the race from the third position on the grid, Hurley was able to quickly move to the front of the pack and led several laps before his first pit stop for fuel and driver change.  Bringing the GTI into pitlane, the Grand Am officials issued Hurley a drive-through penalty for speeding. Driver Ian Baas was tasked with regaining the positions lost during the penalty.  Charging back to the front from the eighteenth position, Ian was able to secure a sixth place finish before a late-race caution halted his charge and forced the race to end behind the safety car.
When Volkswagen of America announced their intention to have a professional spec racing series in 2007 one of the main goals of the program was to find young and talented up-and-coming racers that aspire for a professional career in motorsports. Liam Kenny, runner up in the first ever Jetta TDI Cup, was also signed by a professional racing series.  Kenny was signed with Ma-Con Motorsport and will compete in the 2009 ADAC Formula Masters Championship in Europe.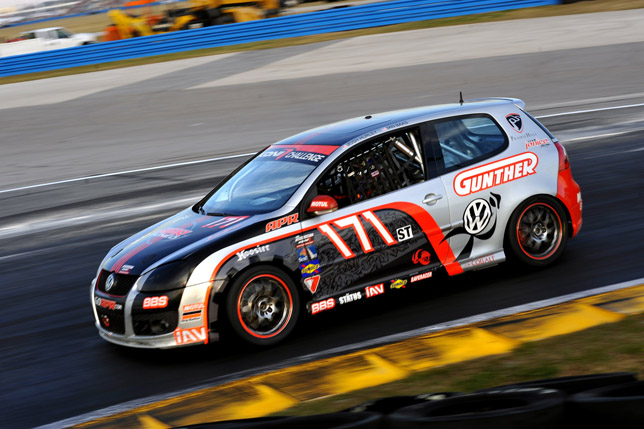 "I'm extremely proud of Josh and Liam for moving their motorsport careers to the next level; they both showed tremendous talent, determination, and skill during the inaugural Jetta TDI Cup series," said Clark Campbell, Volkswagen of America Motorsport Manager. "Having highly talented aspiring drivers advance their motorsport careers is a major component of the Jetta TDI Cup Series. All of the drivers receive coaching in the numerous aspects of being part of a professional racing series including physical training, nutrition workshops, media training and mentoring from seasoned motorsport professionals. The Jetta TDI Cup Series is truly a valuable way to advance young motorsport professionals, as Josh and Liam have demonstrated." added Campbell.
Year two of the highly successful Jetta TDI Cup Series will begin with the driver selection process February 1-4, 2009. This year's driver selection will take place at Infineon Raceway in Sonoma, California. The first race of the season is scheduled for the weekend of April 24-26 at Virginia International Raceway. Once again the Jetta TDI Cup Series hopes to find aspiring young drivers and help prepare them for a career in professional motorsports, as well as to help change the perception of today's clean diesel technologies.