Chevrolet opens its secrets doors to the winners of the first Young?
On June 9th and 10th, the newly opened European Design Centre in Rüsselsheim, Germany, will exceptionally show some of its secrets to the winners of the Pan European Applied Art competition Young? Creative? Chevrolet!. The competition was created last year to create synergies and opportunities between the brand and young talents.
At the beginning of this year, 11 students of applied arts, from all over Europe, were awarded the first prizes of this new competition involving now 15 European countries.
Design is one of the most crucial elements of Chevrolet's strategy for the years to come.
To thank the winners for their achievements, Chevrolet opens its most private doors to the capable students for a 'behind the scenes' learning journey of its brand and creative domain in the Design Centre; practically, it is a hub of ideas for the future were nearly 350 people create the cars design. The very highly qualified designers, engineers and the most recent and innovative technical equipment, secures Chevrolet's design relevance in the European region and around the world for years to come. The peculiarity of General Motors' global Design organisation is a multi-national network composed by eleven design centers around the world linked via virtual reality studios. In Rüsselsheim, apart from Chevrolet, GM Europe's advanced design team creates the new products from Saab, Opel, Vauxhall and certain Saturns.
In direct link with the most advanced engineering and planning, Chevrolet maximizes synergies. This new, high-tech facility, enables the right creative incubator and demonstrates Chevrolet's focus on design's value in the brand development.
Young? Creative? Chevrolet! is in line with the same concept; keeping creativity and design at the core of the brand.
Mark Adams, vice-president of GM Europe will take them on a very private visit to meet the design team from the exterior and interior design studios.
"This is a first time opportunity: we are very happy to show the winners our experimental studio, we hope that it will inspire them. Maybe such talented young students will be working here some day and welcome future winners' witness trips"
* First stop: the Virtual reality room : The students will have the exclusive opportunity to discover where the vehicles are being built, piece by piece in 3D virtual simulation
* Second stop: the interior design studio
* Third stop: the exterior design studio
* The evening will be followed by a dinner with two of Chevrolet designers
* On the second day: Advent design studio and Visualisation Department
An opportunity that has already generated a real excitement among the participating students:
"It is such an opportunity for us to discover the work of professionals; this is a very private and inaccessible place and I can't wait to feel the creative vibes in there" Gianluca Chiocca
"We have been given the opportunity to become closer to professionals. The consequences are real. I knew Chevrolet by name and liked the style of the cars. I discovered Chevrolet innovative spirit!" Dorian Giller
"Chevrolet is giving us a unique opportunity: I am excited to go behind the scenes to see how designers manage to maintain a strong sense of creativity with in the constraints of industrial production." Tania Lightfoot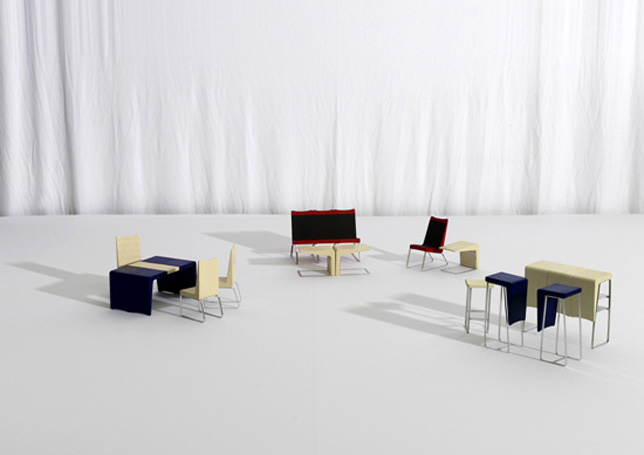 INTERIOR DESIGN
1ST PRIZE: TANJA LIGHTFOOT, AUGUST KOCHERSCHEIDT
School: Universität für angewandte Kunst (Vienna, Austria)
The jury's comment;
"An absolutely fantastic concept. The flexibility and modularity of the system is simply amazing. The level of accuracy and accomplishment is so advanced, that the object could immediately go into real-life production. A wonderful work!"
Tanja Lightfoot, in her 6th year in industrial design;
"We loved the brief given by Chevrolet. It was very interesting to work for an international brand. We tried different materials, different ways of connecting things together. My partner on the project, August, had his own company while studying (studio Graulicht). This experience brought a bonus to our project. The competition had an impact on our image. Now, you can Google us!"
"We kept in mind that we were doing it for Chevrolet Europe and not Chevrolet America and thought about Chevrolet Europe as a unique brand, with its own value. The competition is great, I never heard of any car brand doing the same. It is so innovative!"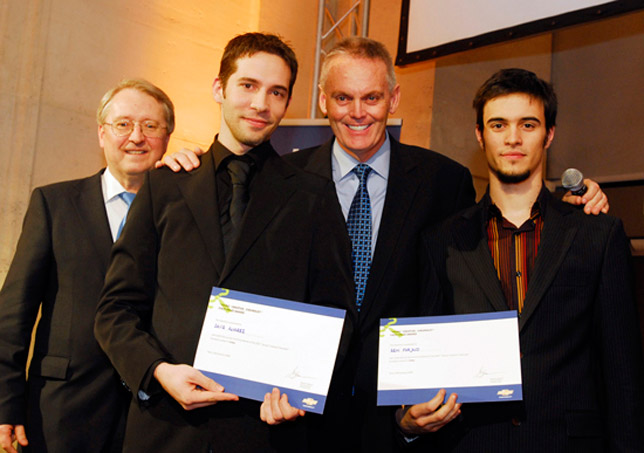 VIDEO
1ST PRIZE: DAVID ALVAREZ, RéMI FARJAU
School: Emile Cohl (Lyon, France)
See the video on: http://www.youngcreativechevrolet.eu
The jury's comment;
"A fresh and dynamic video, featuring a real and solid idea, executed with creativity and containing a clever reference to Chevrolet's heritage."
David ALVAREZ, 4th year design school Emile Cohl;
"We used some graphic codes related to the new wave of vintage rock and applied it to our work. Our objective was to put Chevrolet in a more modern and actual context"
Rémi FARJAU, 4th year design school Emile Cohl;
"We really complemented each other on this project.We learned to collaborate, exchange ideas, work as a team"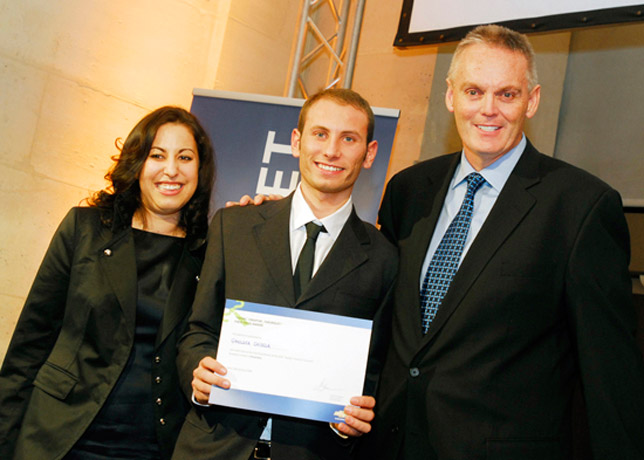 VISUAL ARTS
1ST PRIZE: GIANLUCA CHIOCCA
School: Nuova Accademia delle Belle Arti (Milan, Italy)
The jury's comment;
"An unconventional, daring and humorous look at the subject, which fits well the HHR and Chevrolet's image."
Gianluca Chiocca;
"Cars have always been my passion. I have subscriptions with different magazines of car design, and, for this reason I already knew everything about Chevrolet. For the competition I drew inspiration from the artist Andy Warhol. It has been a wonderful experience for me, I will never forget it! I have learned that all is possible and, above all, I have learned to trust myself, and never give in."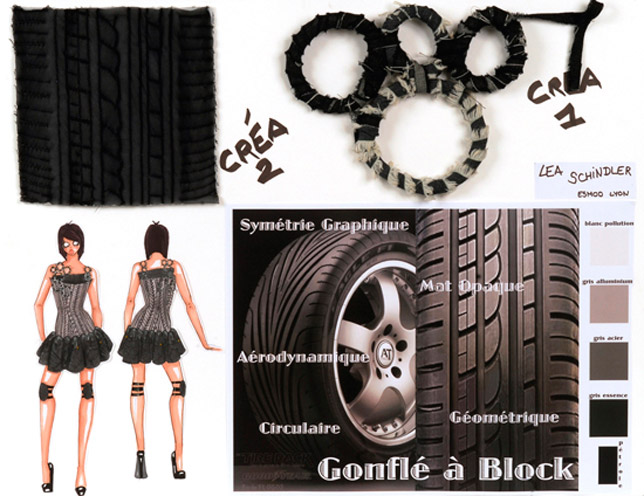 FASHION
1ST PRIZE: LEA SCHINDLER
School: ESMOD (Lyon, France)
The jury's comment;
"'Gonflé à block' is a wear defining well what Chevrolet is, executed with care and great attention. The design is young, sexy, with clever ideas, and still remains perfectly 'wearable', achieving an excellent balance between modern and traditional styles."
Lea Schindler, in her 3rd year of Fashion;
"I wanted to achieve a design that would combine young, contemporary trends and still convey a sense of elegance. At the same time, I wanted an outfit that would be practical to wear in the very peculiar conditions of a motor show. It was particularly interested in working on the shape of the wheel in fashion"
"It was an immense satisfaction to see my work worn by the hostesses here at Geneva, and I perfectly realize the chance that winning the 'Young? Creative? Chevrolet!' prize means for the start of my career. Chevrolet is a really good experience and initiative. I was really proud to see my work promoted through this project and realise the chance I got to be putted under the limelight"
"Winning the 'Young? Creative? Chevrolet!' prize means a lot for the start of my career. It is such a good experience and initiative"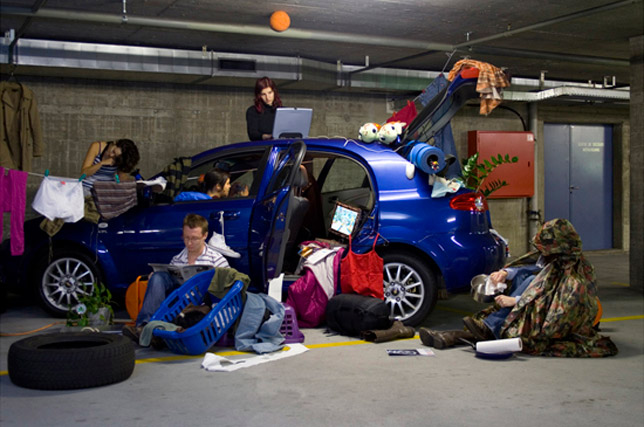 PHOTOGRAPHY
1ST PRIZE: ALINE FOURNIER, CYNTHIA DARIOLY, AMELIA SZEMONIEWSKI, DORIAN GILLER, ANNICK GROBERTY
School: EMAF (Fribourg, Switzerland)
The jury's comment;
"Multifunctional' impresses with the intelligence of the concept and its creativity, in total coherence with Chevrolet's brand values. The picture has a nice 'young' touch, shows people in their daily interaction with a car, and conveys an impression of movement, although the Lacetti is pictured in a still situation."
Amelia Szemoniewski, in her 2nd year of multimedia conception;
"The contest was presented as a unique opportunity to work with an international brand. Following the competition I developed a real interest in the brand; The fact that Chevrolet is asking young people to create for them is just so cool!"
Aline Fournier, in her 2nd year of multimedia conception;
"The briefs are focused on creativity and we are expected to deliver high quality work and yes of course we love challenges! I discovered that Chevrolet is not just a car brand but an open minded company who has an interest in young people and creativity, and knows how to seduce people!"
Dorian Giller, in his 2nd year of multimedia conception;
"We really wanted to do something that no one saw before!"
"After the contest, I feel like seeing plenty more Chevrolet in the streets!"
Annick Groberty, in her second year of multimedia conception;
"This competition has helped me experience working as a team, which is crucial for a future job! We were all working on a real project with a real firm and I really like the car we worked with such a great urban car"
Cynthia Darioly, in her second year of multimedia conception;
"I learned to listen to other people. On a creative point, It was wonderful to see that what we wanted to express was getting possible".