Chevrolet Silverado Realtree Concept [video]
Chevrolet will exhibit the Silverado Realtree Concept at the 2011 SEMA Motor Show in Las Vegas, next week. The vehicle is based on 2012 Chevy Silverado 2500 HD crew cab.
The Concept features a custom Champagne Silver Metallic exterior with Realtree graphics. The interior boasts Dark Cocoa leather seating with camouflage piping and blaze orange stitching, as well as Realtree AP pattern accents throughout the interior.
The off-road capability is boosted by an aggressive 35" special tires on 18" wheels and a custom front bumper with an integrated winch.
The huge vehicle is powered by a huge engine - Duramax diesel with 402PS (296 kW) and 1037Nm (765 lb-ft) of torque. It provides enough power for ing and off-road driving, while a custom rear cap securely stores outdoor gear.
"This truck is a celebration of the seven-year partnership between Chevrolet and Realtree. It's only natural to combine the dependable, long-lasting Silverado HD with Realtree, the best gear for the outdoors," said Tony Truelove, marketing manager for Chevrolet pickups.
"Like all great outdoor gear, the Silverado Realtree Concept is designed to get the job done - and look sharp while doing it.", he finished.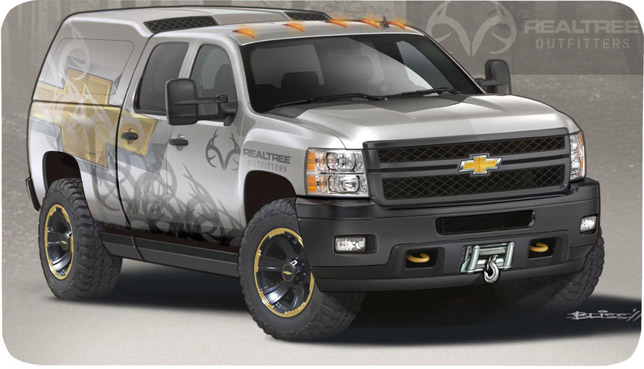 Source: Chevrolet via Youtube