Chevrolet's Camaro through the Generations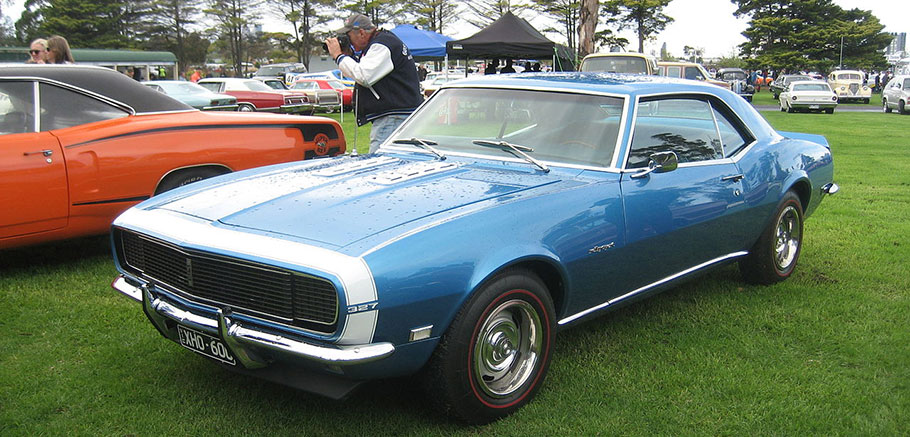 In 1995, Ford released the Mustang and boy did they nail it. The brainchild of the now legendary Lee Iacocca, Ford sold an unheard of 559,500 Mustangs in just it's first year. This essentially was the first salvo in Detroit's new war of the pony cars (small, sporty 2-door cars).
General Motors knew they needed to join in, but they took their time and in 1967 responded with their Camaro. Like the Mustang, the new Camaro was a big a hit and the model has stayed in Chevrolet's line-up (with a pause during the 1990s.). In the last 50 years, it has gone through 5 generations and is as popular as ever. With some historical help from Cass Burch Chevrolet of Quitman, GA, let's take a look at the fascinating evolution of this true American icon.
First Generation: 1967-1969
General Motors joined the newly-emerged pony car market in 1967. After a great deal of research, General Motor's Chevrolet group released the Camaro. It was a good looking car and offered a bevy of cosmetic, comfort and performance options. The most popular model was a base coupe with a 327 small-block V-8 and a Powerglide automatic transmission. The SS package offered a 350 small block and a 396-cube big block was available. For those that desired sports car-like handling, the special Z28 Special Performance Package was available.
Second Generation: 1970-81
The second-generation Camaro went through a cosmetic redesign. Rumors are that the second-generation design was inspired by the 1963 Ferrari 250 GT. Engines that could be ordered ranged from a 4 banger up to several big block V8s.The second-generation Z28 used Corvette's solid-lifter LT-1 350 engine.
Sales softened in the early 1970s due to a sluggish economy. Thankfully, Camaro sales rebounded in 1976. In 1977, the Z28 returned as a separate model, now with a powerful 350-inch four-barrel engine. In 1979, Chevrolet set the Camaro's all-time sales record with 282,571 units sold.
Third Generation: 1982-92
The third generation Camaro sported a new design that was downsized from the second generation. The selection of engines ended with the 350 V8 Chevrolet. Big blocks were not available. The Z28 dazzled with handling and an optional 190-horse 5-liter H.O. and 5-speed manual transmission was made available in 1983.
Fourth Generation: 1993-2002
The fourth-generation Camaro was a sleek new design. The engines available ranged from a 207 cube V-6 to a modestly powerful 350 V-8. The Z28 was hot with a 275-HP 350 cube V-8 and six-speed manual transmission. Unfortunately, in the late 1990s, declining sales in the pony car market segment were industry wide. Because of that, General Motors brass decided that the Camaro needed to go into hibernation for a while.
Fourth Generation: 2010-18
While the brand was in hibernation for most of the 1990s, design work continued. When the economy started to pick up again in the late 2000s, the Camaro was resurrected to high acclaim. The new Camaro was a fresh new design and offered an independent rear suspension and some Cadillac technology, too.
Image Source: Wikipedia