Chinese Menu N°2: Alain On Pole Again In Macau
Alain Menu managed an inspired banzai lap in the dying seconds of today's qualifying session to score his second consecutive pole position on the Macau street course. The session got stopped twice for accidents, seriously interfering with the Chevrolets' team strategy. Menu had just set the absolute fastest first sector time when the red flag came out the first time; then Nicola Larini saw his best laps ruined by a second red flag, later followed by a yellow in his next attempt. Max Orido's session was thwarted by a broken driveshaft.
The qualifying session could hardly have been better for the Chevrolet Lacetti's final event, and Menu is very keen to add one last win to that final pole position. Today's pole position will in any case be the final occasion this year for the team's management to don their traditional yellow bowties for Sunday's race.
QUOTES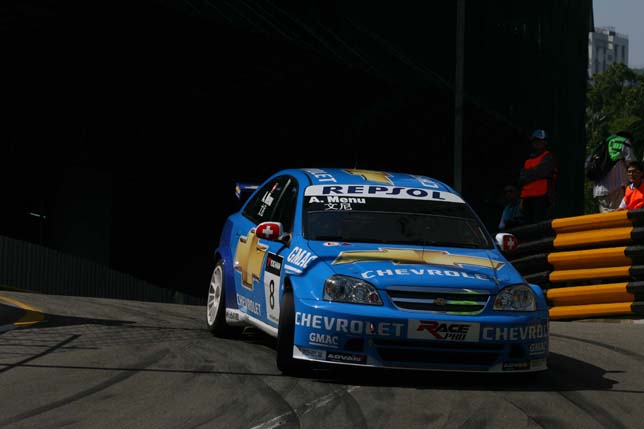 Alain Menu (Pole): "I thought it would be possible to do a lap in the high 30s, but somehow it all came together and I went considerably faster than I thought would have been possible. Mind you, at the start of that last lap I gave myself a bit of a scare when I went too fast through Mandarin corner. I just managed not to lose the car and stepped on it again, giving it all I had. In the second, twisty sector I managed to make the difference and what had started with losing several tenths on my best sector time ended with pole position. As for Sunday's race, I will try everything to win it like last year."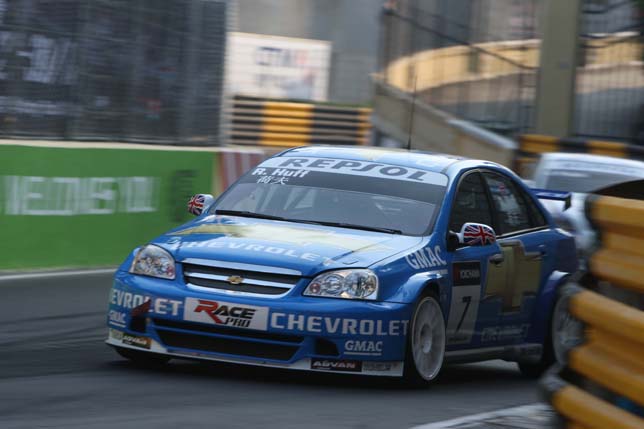 Rob Huff (4th): "The team did a great job in giving me a fantastic car, but I feel my grid position could have been better, and maybe should have been better. We'll try to sneak up a place or two at the start of Sunday's first race."
Nicola Larini (9th): "Twice I saw my best laps in the session ruined by other people's accidents. First there was the red flag, then later there was a waved yellow when I tried an ultimate time. Normally you just come of the throttle for a yellow, but in Macau you have to be very careful because the track is so narrow and you don't want to become an additional victim of someone else."
Max Orido (20th): "I gradually managed to improve my lap times by some three seconds over the sessions, but obviously the level of competition today is so much higher then when I last raced here. A broken driveshaft didn't help me either, of course, but I'm nevertheless satisfied with today's result."
MACAU QUALIFYING RESULTS 1.     A Menu     Chevrolet Lacetti     2m32s285 2.     A Priaulx     BMW 320si     +0s173 3.     Y Muller     SEAT Leon TDI     +0s653 4.     R Huff     Chevrolet Lacetti     +0s668 5.     A Farfus     BMW 320si     +0s798 9.     N Larini     Chevrolet Lacetti     +1s332 20.   M Orido     Chevrolet Lacetti     +4s981