Chris Castagna Wins Jetta TDI Cup At Historic Lime Rock Park
LIME ROCK, Conn. – Chris Castagna, 22, South Boston, Mass., won his first race of the Jetta TDI Cup Saturday at Lime Rock Park after maintaining a lead he acquired early on in the 30-minute sprint.  The race was a fierce competition from the beginning with the 30 amateur drivers testing their skills on the recently re-paved mile and a half track.  Finishing second was Mark Pombo, 25, Duluth, Ga., and Josh Hurley, 23, Cooper City, Fla., rounding out the top three.
"I was kind of disappointed in the first three races and am glad to finally pull the win out here at my home track," said Castagna.  "I couldn't have done it without the support of Volkswagen, Bosch and New England Constables."
Prior to the race, famed local F1 driver Sam Posey offered instruction and track tips to the drivers over the weekend based on his many years of experience at this historic track.
"It's a great honor for us to have the Jetta TDI Cup come to Lime Rock.  I don't think Lime Rock's ever seen anything like it with the tents and organization on this scale," said Posey.  "It's great to see 30 young kids and the process of discovery they have to go through to be competitive here.  It's very much in the spirit of Lime Rock, which is a track where a lot of people have learned how to drive.  The drivers are all eager, very capable and have great cars at their disposal.  I think it's fantastic."
The drivers will now look forward to the next race at Iowa Speedway on September 20th which will kick off the final three back-to-back weekends of racing leading up to the finale at Road Atlanta the first weekend in October.

Complete Jetta TDI Cup provisional race results are listed below with finishing position, driver, hometown, car sponsor and laps completed.
1.  Chris Castagna, Boston, Mass., Bosch, 25 2.  Mark Pombo, Duluth, Ga., ful®, 25, -.393 3.  Josh Hurley(R), Cooper City, Fla., Athletes' Performance, 25, -1.083 4.  Caleb Kenney, Berkeley, Calif., Hoopla, 25, -3.475 5.  Michael DeNino, Gaithersburg, Md., Castrol, 25, -3.837 6.  David Jurca, Federal Way, Wash., Kyosho, 25, -3.990 7.  Timmy Megenbier, Melrose Park, Ill., SCCA, 25, -4.645 8.  Jimmy Underhill, Denver, Colo., Bosch, 25, -6.975 9.  Liam Kenney, Sterling, Va., ViON, 25, -9.292 10.  Chris Holman, Burlington, Ontario, Kyosho, 25, -9.600 11.  Taylor Broekemeier(R), Fort Collins, Colo., Bondurant, 25, -9.997 12.  Juan Pablo SierraLendle, Puebla, Mexico, Aggreko, 25, -10.273 13.  Wyatt Dallenbach, San Antonio, Texas, DC United, 25, -10.785 14.  Chris Kuenning(R), Grand Rapids, Mich., Aggreko, 25, -11.173 15.  Derek Jones, Philadelphia, Pa., Oakley, 25, -11.320 16.  Andrew Cordeiro(R), Woodbridge Ont, Canada, Castrol, 25, -22.146 17.  David Heinz(R), Pittsburgh, Pa., Pre Loved, 25, -26.759 18.  Chad Brassfield(R), Phoenix, Ariz., UTI, 25, -27.129 19.  Adam Love(R), Normal, Ill., SCORE, 25, -28.237 20.  Adam Crepin(R), St. Louis, Mo., SCCA, 25, -28.956 21.  Jake Dallenbach, San Antonio, Texas, Specialty, 25,  -27.277 22.  Ryan Buetzer, Long Beach, Calif., ViON, 25, -29.677 23.  David Richert(R), Niverville MB, Canada, Hoopla, 25, -30.100 24.  Gary Williams_Jr., Dana Point, Calif., Oakley, 25, -36.287 25.  Noah Arundel, Tonka Bay, Minn., VW P&A, 25, -37.350 26.  Andy Lee, Colorado Springs, Colo., Red Bull, 24, -1 lap 27.  Adam Kretschmer(R), Brampton, Ontario, VW Credit, 22, -3 laps 28.  Evan Pflock(R), Redondo Beach, Calif., SCORE, 21, -4 laps 29.  Nick Mancuso, Mettawa, Ill., Auto Logistics, 16, DNF 30.  John Shim(R), Starkville, Miss., VW Credit, 5, DNF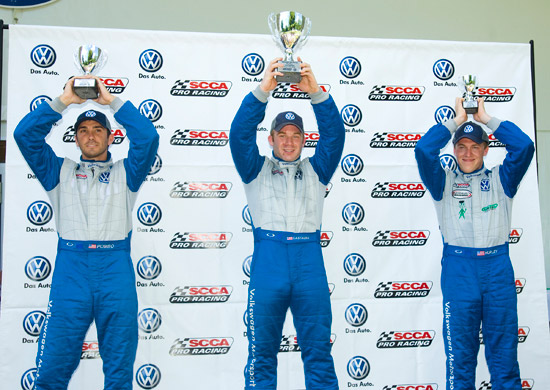 The Volkswagen Jetta TDI Cup series is an innovative approach to motorsports – 30 factory-prepared and managed 2009 clean-diesel Jetta TDIs will be piloted by talented, up-and-coming drivers, aged 16 to 26. Volkswagen's goal is to find the driver with the most talent and help them break into the world of professional motorsports. The Jetta TDI Cup series, the first all clean-diesel race series, is sanctioned by SCCA Pro Racing Inc. Sponsors for the race include: Aggreko, Athlete's Performance, Bondurant, Bosch, ful®, Holder, Hoopla, Ironclad, Kyosho, Oakley, RedBull, UTI and ViON.