Citroen Does 'The Italian Job' At Eden Project'S 2008 Sexy Green Car Show
Citroën has hit the silver screen with its most environmentally-friendly cars starring in a short film that pays homage to the legendary chase scene from 'The Italian Job.' Shot at the fun and futuristic location of the Cornwall-based Eden Project, the sequence features three C1s decked out in Citroën's native French Tricolore colours of red, white and blue, racing around the Cornwall eco-charity's headquarters as part of this year's Sexy Green Car Show, which runs from the 23rd to the 31st of May.
"Citroën are one of the most dedicated vehicle manufacturers to the environmental cause," commented Guss Grand, the show's director. "When we decided to do this mini-movie homage to kick-start the Sexy Green Car Show in style, Citroën's C1 was the obvious vehicle of choice. We're just glad they didn't blow any doors off!"
With its nippy 1.0i petrol engine, the C1 boasts ultra-low CO2 emissions of just 108g/km and is one of the most economical cars you can buy, with up to 68.9mpg on the combined cycle.
The C1 will take pride of place at the car show alongside Citroën's C2 VTS HDi and the Grand C4 Picasso – two more models that demonstrate the Company's firm commitment to producing stylish and practical vehicles that deliver excellent fuel economy as well as solid green credentials.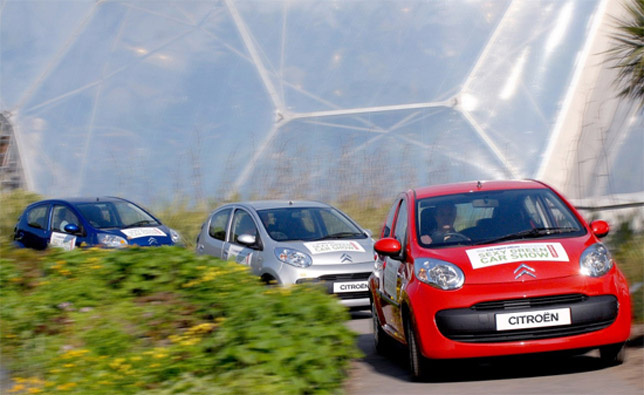 The C2 VTS HDi proves that cars can be both high performers and ecological, with the diesel's punchy 1.6HDi unit offering a frugal 64mpg on the combined cycle, low CO2 emissions of 119g/km yet acceleration of 0-60mph in just 9.4 seconds and reaching to a top speed of 120mph.
Citroën's multi award-winning Grand C4 Picasso demonstrates that a large family car can also be a clean one. The spacious 7-seater's ultra efficient 1.6HDi DPFS engine emits just 150g/km of CO2 and with its intelligent Electronic Gearbox System (EGS), fuel economy is optimised at 49.6mpg on the combined cycle.