Citroen's custom show cars on display at british international motorshow
Citroën will be exhibiting two unique custom-made show cars on its stand, S11, at this year's prestigious British International Motor Show – the C-Surf and the C6 Pallas. The unique models, designed and built by custom-car experts, Darren Horton Design and re-trimmed by Auto-Kit, will share the stage with 5 other UK premieres including Citroën's ultra-green C-Cactus concept, as well as the Company's newest and most environmentally friendly models.
Custom designed and packed with novel in-car entertainment throughout, the C-Surf is a hip, surf-themed concept of the Company's rugged C-Crosser SUV. The C6 Pallas, an extra-special edition of Citroën's chic executive saloon embodies the André Citroën 'Different is Everything' ethos, featuring an opulent-gold body finish, the latest mobile computing technology and an ultra luxurious interior.
The C-Surf The C-Surf edition of the C-Crosser is the ultimate beach must-have. On the outside, the C-Crosser's body is airbrushed with a surfing mural and is fitted with special surfboard roof-rails – complete with a Citroën-themed surfboard. A custom exhaust system and striking bespoke 20" alloy wheels finish the rugged look.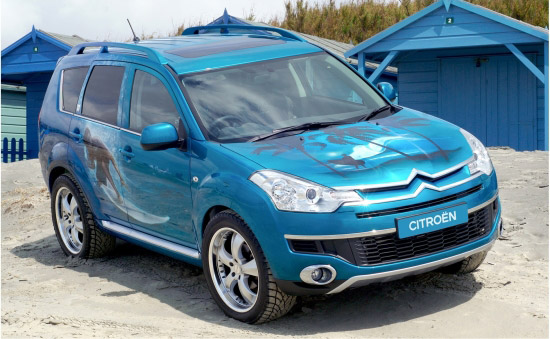 Inside, the car features a complete tribal themed custom leather trim and more airbrushed art work. The C-Surf's impressive kit includes a dashboard compass, Genesis sound-system with boot-mounted subwoofer, two LCD headrest screens, 15" roof mounted screen, not to mention a Nintendo Wii console and DVD player incorporated into the boot. A lighting system illuminates the cabin's interior with 2.1million possible colour combinations that can change in rhythm with the car's sound system. The C6 Pallas The striking opulent-gold C6 Pallas takes inspiration from Citroen's rich design history – perfect for the style conscious businessman on the move. On the outside, the bold swooping lines of the car's sleek figure have been given a timeless quality with a colour contrasted roof echoing back to the iconic DS.
Inside the ambient lit cabin, the C6 Pallas' specially designed two-tone seats are finished in plush brown leather and house LCD touch screens for rear passengers. A bespoke rear central console houses a DVD player, iPhone dock, and an integrated computer with mobile broadband accessed via a fingerprint recognition system.