'08 Cobra Jet Featured in Ford Racing Outreach Program for Sportsman Racers
When the 40th Anniversary Cobra Jet Mustang won the 2009 NHRA Winternationals at Pomona last month, duplicating the success of the original Cobra Jet, the interest level in the latest race-ready offering from Ford Motor Company shot through the roof. Now Ford Racing is providing an in depth look at the CJ with a series of Cobra Jet meetings at ten-selected NHRA events.
"The attention focused on the Cobra Jet is unlike anything I have seen in the sportsman class in many years in racing," said Brian Wolfe, director of Ford Racing Technology and an NHRA competition license holder since 1992. "With all 50 CJ's sold and now scattered around the United States, there are a number of sportsman who want to get an up close look at the Cobra Jet. We decided to do a series of town hall style meetings where the sportsman racer can come and see the Cobra Jet and talk with representatives from Ford Racing and learn not only about the Cobra Jet but about our program and some of Ford Racing's offerings for the sportsman racer."
The Cobra Jet outreach will kick off this week with a gathering on Thursday night March 12 at 7:30 pm at the Tasca Racing Motorcraft/Quick Lane hospitality in the NHRA Pro Pits. The event is open to all sportsman racers who hold a competition license. This week's program will feature Ford Racing NHRA Program Manager Jesse Kershaw and Bob Tasca III driver of the Motorcraft/Quick Lane Shelby Mustang Funny Car, whose grandfather created the original Cobra Jet Mustang in 1968.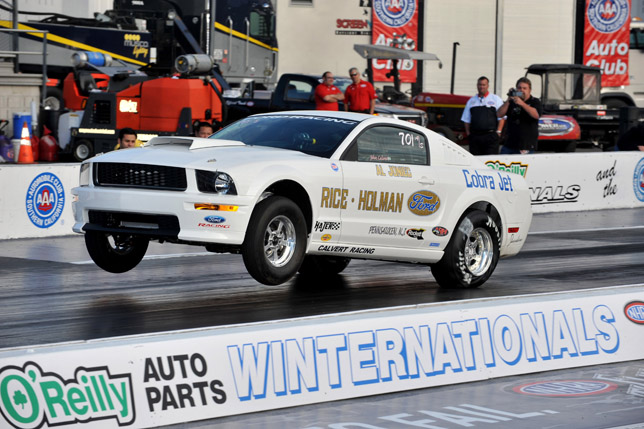 "This event provides an opportunity for the racers to see the Cobra Jet up close and talk with some of the people who have been involved in building these cars," said Wolfe. "We're soliciting feedback directly from racers on the Cobra Jet as we investigate interest in future dedicated drag race packages. If someone doesn't want to wait for the next generation there are parts available through Ford Racing to build your own Cobra Jet. All this and more will be discussed on Thursday."
Cobra Jet meetings are tentatively scheduled for ten NHRA events this season. Time and location is subject to change so look for updates on Ford Racing.com for the latest Cobra Jet gathering.
The NHRA events include:
March 12-15 – NHRA Gatornationals (Gainesville, FL) June 4-7 – NHRA Route 66 Nationals (Joliet, IL) June 11-14 – NHRA SuperNationals (Englishtown, NJ) June 25-28 – Summit Racing Equipment NHRA Nationals (Norwalk, OH) July 10-12 –NHRA Mile-High NHRA Nationals (Denver, CO) Quick Lane display only Sept. 2-7 – Mac Tools U.S. Nationals (Indianapolis, IN) Sept. 17-20 – NHRA Nationals (Charlotte, NC) Sept. 24-27 – O'Reilly Super Start Batteries NHRA Fall Nationals (Dallas, TX) Oct. 29-Nov. 1 – Las Vegas NHRA Nationals (Las Vegas, NV) Nov. 12-15 – Automobile Club of Southern California NHRA Finals (Pomona, CA)