Corvette teams take podium places at Nogaro
The circuit of Nogaro in the south of France hosted the eighth round of the FIA GT Championship. The Phoenix Carsport Racing Corvette team was particularly successful with a second-place finish for its driver pairing Mike Hezemans and Fabrizio Gollin, followed by team-mates Marcel Fässler and Jean-Dénis Deletraz in third place. In the FIA GT3 European Championship, French drivers James Ruffier and Arnaud Peyroles scored a commanding victory on home soil in the second race of the weekend.
There were four Corvettes among the 12 entries for the GT1 category at Nogaro, the French championship round having attracted a total of 26 entries. As usual, the Selleslagh Racing Team's number 3 Corvette Z06 was driven by Christophe Bouchut and Xavier Maassen while Phoenix Carsport Racing had Marcel Fässler and Jean-Dénis Deletraz driving the number 5 Corvette Z06 and Mike Hezemans and Fabrizio Gollin in the number 6 car. A fourth Corvette Z06 was run by a new entry, Belgian outfit DKL Engineering for French drivers Jean-Philippe Dayraut and Julien Canal.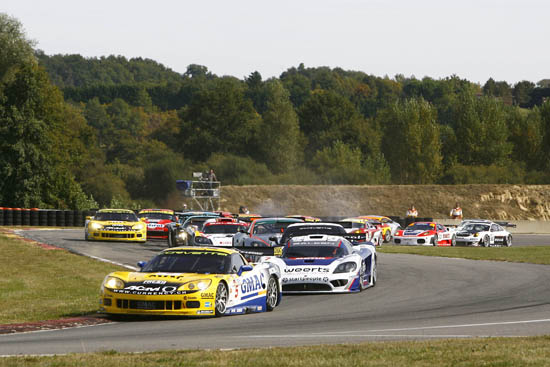 In qualifying, Phoenix Carsport Racing's Marcel Fässler once again proved his skills, setting the fastest outright lap time of 1.23.703 minutes. Christophe Bouchut qualified the Selleslagh Corvette third. Mike Hezemans was eighth with the second Phoenix Carsport Corvette, one place ahead of Jean-Philippe Dayraut with the DKL car.
Fässler/Deletraz led proceedings in the earlier stages of the race, but they slightly dropped back in the second hour. A strong recovery in the final laps allowed Hezemans/Gollin to move up into second place, one place ahead of Fässler and Deletraz. In this order, the two Phoenix Carsport Racing Corvettes took the chequered flag. Bouchut and Maassen also led the field at some stage, but lost time, among others due to a collision and a drive-through penalty for speeding in the pit lane. The French/Dutch pairing eventually came home eighth. Dayraut and Canal suffered from clutch problems and retired.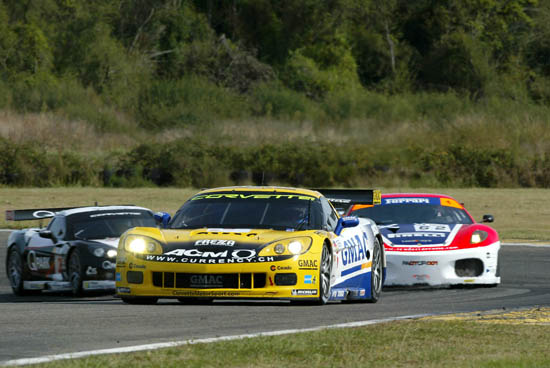 In the FIA GT points' standings after eight rounds, Hezemans/Gollin remain second with 50 points, only six points down on the leaders. Fässler/Deletraz remain fourth, Bouchut/Maassen are now seventh.
The FIA GT3 European Championship also raced at Nogaro. The best-placed Corvette pairing in the first race were Vannelet/Sourd in fifth place, with another top ten finish for Matzke/Skula in ninth place. In the second race, French Corvette driver pairing Ruffier/Peyroles scored a fine win. Their maiden victory of the season also allowed them to take the lead in the points' standings.
The next round of the FIA GT Championship will be taking place in Zolder in Belgium, October 19th. The season finale of the FIA GT3 European Championship is scheduled to take place in Dubai on Saturday, December 6th.