Corvettes successful in FIA GT races at Monza
The second race of the FIA GT Championship, at the Monza circuit, ended in a glorious victory for Christophe Bouchut/Xavier Maassen with the no. 3 Corvette C6.R of the Belgian Selleslagh Racing Team (SRT). As a result, the French/Dutch combination now leads the championship. Bouchut/Maassen started the 2-hour race from the first row and crossed the finish line with a lead of approximately 25 seconds on the runners-up. "The entire weekend was just perfect," said Maassen. "Our team chose the perfect race strategy and Christophe Bouchut was an enormous support." Bouchut drove the first stint and handed the C6.R in perfect condition halfway the race over to Maassen.
The Corvettes could have scored even better this weekend, had the no. 5 GMAC Corvette C6.R of Swiss Marcel Fassler and Jean Denis Deletraz not been forced to retire after a hit by another car. And the no. 6 GMAC sister car of Mike Hezemans/Fabrizio Gollin just lacked a little bit of time to clench the victory, though it had started the race from the 29th position on the grid. The Dutch/Italian team finished fourth, within less than a minute from the winning Corvette. An excellent result, given the disastrous starting position at the back of the field. The day before, the qualifying session of Hezemans/Gollin ended even before a single lap time had been set, when they were hit by an opponent. But the Phoenix Carsport mechanics worked all night and thanks to their effort the no. 6 GMAC Corvette was ready again on the day of the race. Both drivers pulled off a great race in which they managed to catch up splendidly.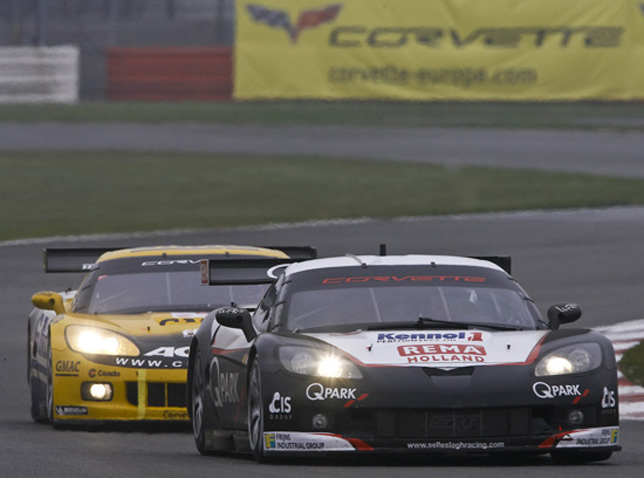 In the Citation Cup, the GT1 category for 'gentleman-drivers', the Austrian Corvette C5-R of Wolfgang Kaufmann and Aliaksandr Talkanitsa finished first. This duo now also ranks highest in the Citation Cup table. In the two 1-hour races for the FIA GT3 European Championship, Corvettes were up front too. With their Team Callaway Z06.R GT3, the French team Arnaud Peyroles/James Ruffier finished in third position on Saturday and in second position on Sunday. They now also occupy the runner-up position in the championship. The French team of Marc Sourd drove the Z06.R GT3 to pole position on Saturday and won the race. However, his pit crew unfortunately switched the identical-looking A and B tire sets (the A tires are for the Saturday, the B set is for Sunday). Consequently, Marc Sourd was disqualified after the race.
The next FIA GT1 race is on 21 June at the Adria circuit near Treviso (Italy). This is a relatively slow circuit compared to the fast and spectacular Monza track and therefore less suited to the Corvettes.
Race calendar:
| | | |
| --- | --- | --- |
| 21+22 June | Treviso (Italy) | GT1 |
| 5+6 July | Oschersleben (Germany) | GT1+GT3 |
| 3+4 August | Spa (Belgium) | GT1 only |
| 23+24 August | Bucharest (Romania) | GT1 |
| 13+14 September | Brno (Czech Republic) | GT1+GT3 |
| 4+5 October | Nogaro (France) | GT1+GT3 |
| 18+19 October | Zolder (Belgium) | GT1 |
| date T.B.D. | Dubai (United Arab Emirates) | GT3 |
| 22+23 November | San Luis (Argentina) | GT1 |